Air Transat: Club Class trip review Gatwick to Toronto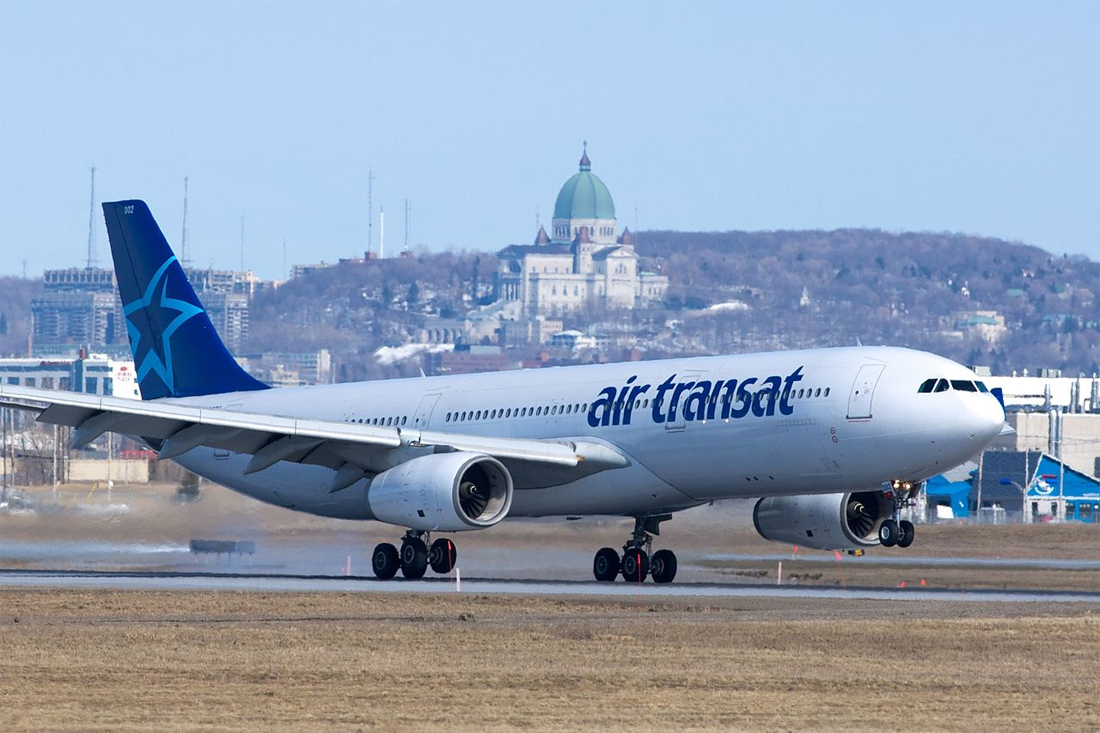 London Gatwick to Toronto in Air Transat Club Class
Departure Airport
Air Transat operate from the North Terminal of Gatwick and check-in is conveniently positioned near to the central security processing area. The space is subject to bright, clear branding with organised queues and an abundance of staff on-hand to assist. Around 2-hours before departure there are no queues and as I have already completed online check-in I do a simple reprint of my boarding pass from the self-check-in machine for my flight in Club Class. Air Transat do not provide lounge access for premium customers, but it is possible to avail of a discount advance purchase rate for one of the many pay-in facilities in the manage booking system before the flight. As part of the Club Class package, advance seat selection is possible, as well as pre-flight meal order from the celebrity chef menu. Customers are also permitted to use the fast-track lane for security which is useful on a busy morning at the airport.




Boarding
As the procedure dictates at Gatwick, customers are directed out to the gate area around 50-minutes before departure. After a short walk to Gate 50, there is a brief boarding pass check before a 10-minute wait in the gate area. Boarding is conducted in a zonal format starting with those passengers needing extra time, Club Class, frequent flyers and then Economy Class by row position. It seems efficient and all passenger are onboard around 15-minutes later. At the aircraft door, there is a good welcome from the cabin staff, and throughout boarding and the time on the ground the interaction is positive and leaves a reasonable impression. In the premium cabin, passengers are offered a choice of boarding drinks (orange juice or sparkling wine), and there is bottled water in the seat storage compartment. Glassware is cleared efficiently, but given there is a 45-minute delay after we are on the aircraft a refill would have been appreciated. Meal orders are recorded by the staff during boarding, and there is an adequate description of the entrée and this is useful as there is no menu card.
Airplane & Cabin flown
A330 in Club Class and the cabin is around 95% full. While all branding refers to Club Class or Business, in a practical sense this is aligned with Premium Economy standards for seat design and cabin facilities.
Baggage Allowance
Club Class permits one piece of carry on up to 15kg, size up to 23x40x51cm.
The Seat
The A330 for the flight is configured with 14 seats in a 2x3x2 configuration in Club Class. The seat pitch is 36-inches which is slightly less than one might expect on a full-service Transatlantic competitor. However, the space feels good for width and leg room in 2K (window). The recline is quite generous and while this does not impact the knee space too much it is not easy getting in or out of the window seat mid-flight.
The footrest feature folds down from the forward seat and there is a separate legrest but this is only likely useful for shorter passengers. The headrest is adjustable up and down, and the side wings also move for additional support. Storage for personal items is well considered with a larger seat pocket and various cubby holes built into the panelling. The seat is equipped with two USB sockets and a 110v outlet for larger devices. The central console is large and houses a mid-size, single panel tray table. Overall, this is a reasonable leisure orientated product which offers adequate utility for business activities.
Cabin & Toilets
Cabin presentation is at a high standard as customers board the aircraft and carpets and seat covers are clean. Around the seat the integral storage compartments do contain some food debris from the previous flight, so attention could be better here, but the table and PTV are well presented.
Seats in Club Class are upholstered in a dark brown leather with light grey panels and there is an attractive floral motif to the bulkhead walls. Air Transat do not provide any headrest cover but the fixture seems to wiped down and clean. The curtain dividers are used between the cabins and the galley, so Club Class retains a good feeling of exclusivity, and there is one washrooms at the front of the aircraft which is for sole use of the premium cabin.
Schedule
The flight departs 45-minutes late from Gatwick and the flight deck give a reasonable number of updates on the status and expected departure time. We arrive more or less on time into Toronto for my onward connection.
Food & Drink
Service begins efficiently after the seatbelt is turned off with the first bar service which is given with a snack bowl direct from the galley. While glassware is removed efficiently, staff do not offer any refill until the meal tray is delivered.
The main meal choice for this afternoon's flight is lamb, chicken and lasagne. I opt for the lamb which is delivered on a linen covered meal tray from the galley. The entrée is served piping hot and meat and vegetables have subtly spiced flavour which is pleasant. The presentation is nothing special but it is a very acceptable dish. The appetiser is a couscous salad with stuffed olives, sundried tomatoes, pepper and olive oil dressing which is hearty and enjoyable. The meal concludes with a small cheese and fruit plate (quality okay), and a chocolate cake with cherry sauce. Shortly after this staff offer tea and coffee, and a selection of digestifs (cognac, Bailey's, whiskey and port).
Mid-flight, the staff are somewhat proactive with the bar service, and around 3-hours before arrival a basket of snacks (potato chips, fruit, chocolate bars and suchlike) are offered.
2-hours before touchdown in Toronto a second plate of food is delivered from the galley which is a pizza style bread, cold cut meats, artichoke hearts and olives – it is all quite good.
Entertainment
The entertainment system has a simple user-interface for which the options are logically divided into movies, TV, audio, games and kids. There are three other sections related to airline information, holiday extras and the bistro menu for buy-on-board. Movies has a modest selection of 37 titles which includes some recent Hollywood releases, older "classics" and French language options. The genre mix is fairly mainstream with action-adventure, classics, comedy, drama and kids. TV has approximately 230 different episodes which equates to around 38 different programmes covering the usual comedy, drama, travel guides, documentaries and lifestyle and kids. There is some boxset content for binge watchers but this is quite scattered with between 4 and 20 episodes depending on the feature. Music has limited choice of 38 albums and this is all reasonably conventional popular classics such as Coldplay, Elton John, U2, Prince and suchlike – there is nothing much current.
The PTV unit is an impressive 13-inches and the touch screen interface functions well during the flight. The headsets are an in-ear product that is the same as the purchasable option for the Economy Class cabin – however, the sound quality is abysmal and I would advise using your own store bought product for a better experience
Comforts
There is a reasonable array comforts given in Club Class and this includes a pair of disposable slippers, fleece blanket and inflatable pillow – all of which can be taken away from the flight. A nice feature is the amenity kit which has a broad range of comfort products with the usual socks, eye mask, earplugs, dental kits, antiseptic wipe and Melvita hand cream and lip balm.
In the washroom there is a simple hand soap and paper towels.
Staff Service
Staff service is agreeable overall and the galley based service formats sit closer to Business Class than Premium Economy. There is reasonable attention to customers during the meal service and some showcasing of the inflight product for the meal and bar items. It could be a little more attentive for drink refills and once the table is cleared staff mainly keep out of the way in the galley, but are reactive to customer requests.
Arrival Service
There is no arrival service to speak of as one disembarked in Toronto and with a fairly short connection to Montreal some assistance and reassurance would have been good here. There are long queues at passport control, more lines for secondary paperwork checks and then a further queue at the exit of baggage reclaim. Fortunately, security processing is efficient and I am at the gate in advance of departure, but after the stated time for boarding on the boarding pass.
Verdict
A solid leisure airline experience that retains a good full-service feel for elements of the product and service. The seat is slightly below average for personal space based on other Premium Economy cabins. However, the meal quality, bar product and service styles are arguably better than some of the Transatlantic mainline competition. If you are expecting a long-haul Business Class standard you are likely to be disappointed but otherwise this is a robust Premium Economy service.
This flight report is based on fully paid tickets, not airline discounted or complimentary tickets.
---
Related Links
» Air Transat customer reviews
» News Headlines
» Special features
---