Air China First Class flight review
First Class Flight Review : Flying on Air China Boeing 777-300ER From Beijing to London
The only benefit of Air China First Class seems to be getting a comfortable seat. This, and the flight departure time was my main reason for choosing to fly Air China from Beijing to London. Having suffered yet another delayed domestic flight from Ordos to Beijing the night before, I was glad of a few extra hours sleep before leaving Beijing, instead of taking the British Airways flight 3 hours earlier.
Air China : at the Airport
Check-in at the massive Beijing Capital International Airport was quick, although devoid of any Premium service and with a check in agent that couldn't understand English. All very disappointing with this being the hub for Air China, and since they have only a small number of First Class customers you would think they might take more interest in them. This trip was on a full fare First Class ticket, not an upgrade or discount price.




From check in there is a train to the E wing of Terminal 3, a journey of about 5 minutes. Exiting the train, you line up for Immigration and then Security screening – there is a First / Business class Fast Track security, but this is often slower than standard processing.
Airside in Terminal 3 there is the usual plethora of scent spraying tax free shops, higher end brands such as Bulgari, Mont Blanc, Salvatore Ferragamo and others. More shops have been squeezed in at the expense of customer comfort, and useful items such as Flight Departure screens are now almost impossible to find.
One noteworthy point is that you will find Beijing Capital International Airport very hot in summer and cold in winter, supposedly because of Chinese energy saving rules. This day in August and the temperature inside the airside section was 26 degrees Celsius, as you queue at immigration even hotter.
Air China First Class Lounge

Air China have First and Business class lounges on the floor above the shopping area. Without proper air conditioning and in full sunshine from the glass exterior walls, the temperature inside was closer to 27 degrees. There is a check of boarding cards as customers enter the lounge, but no proper greeting or welcome is offered by these staff.
Facility wise, this lounge is very poor by first class standards. Overcrowded because Air China sell lounge usage to many other airlines, the lounge remains unchanged since opening in 2008. Chairs are worn and grubby, carpets stained and unpleasant.
The 2 showers are cramped, humid and unhygienic. This theme is replicated in the washroom facilities which are a health hazard. During this visit, the gents washroom cleaner was using the same hand cloth to wipe around the urinals and then proceeding to wipe the counter areas by the washbasins (same cloth, no rinsing etc). For anyone familiar with China, this is a fairly common cleaning technique in China and seriously underlines the problems they have.
Lounge food is Chinese options primarily, and the quality is awful. You rarely see a western or non-Chinese customer eating in this lounge.

Whilst taking a photograph of the hot food display, a member of catering staff quickly came over shouting that it was illegal to take photos of the food, and then repeating the word delete! 1 red and 1 white wine is available, usual soft drinks and beer. You cannot get a proper coffee in this lounge, aside from the most disgusting and unpalatable stewed coffee that sits untouched on a hot plate. Air China lounge WiFi uses the airport free 5 hour WiFi service, and with the firewall restrictions and poor speed of service, it is not worth trying to log on.
Boarding the flight
Time to board cannot come soon enough, and staff warn that Gate E62 it is a 10-15 minute walk to the boarding gate. Air China first class customers are supposed to get a complimentary buggy service from the lounge, and staff had to be reminded twice about this before a buggy was arranged. They also forgot to say that boarding was to be via bus from a very remote stand, almost off the airfield.
Despite the sign for Priority boarding, staff take no notice and First Class queue up behind all others to await transport to the aircraft. As boarding card slips are taken, staff point to a small VIP/First Class bus outside. The theory of some premium service is quickly dissipated when all following economy cabin passengers realise nobody is in control and they quickly board and fill the bus. The bus driver looks puzzled, but being China he is not going to ask questions and prepares to drive off. It transpires the London bound aircraft is a 10 mins bus dive away, parked by the maintenance hangar.
First Class Onboard Air China
A quite new Boeing 777-300ER on this flight, fitted in a 3 cabin configuration with 8 First class suites (1x2x1 layout), 42 Business class flat bed seats (2x2x2 layout) and 261 Economy class seats. To their credit, Air China is one of few airlines that retain a 9-across seat layout in Economy class, most airlines having squeezed in 10-across seating.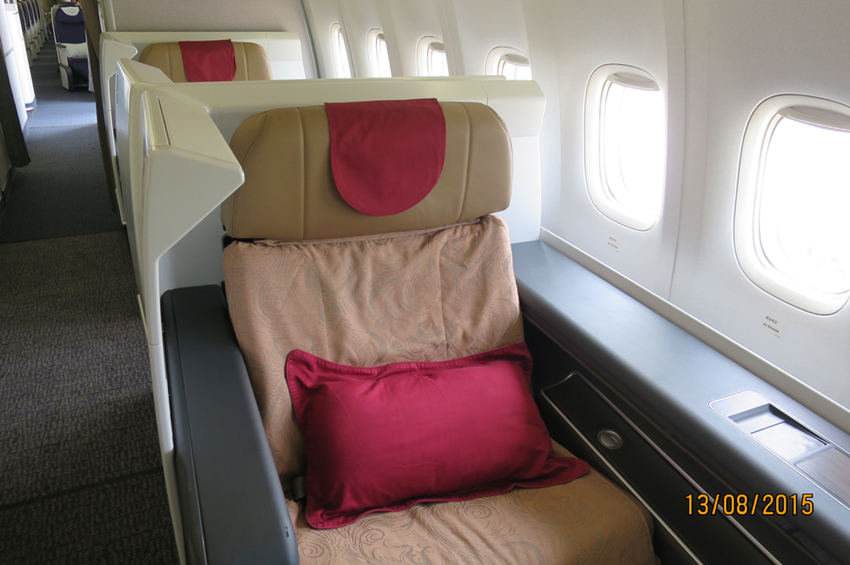 The first class seat is comfortable for sitting, relaxing and sleeping, and has reasonable privacy. When you want to sleep, staff will lay down a cover and offer a nice duvet.
The IFE does not start until about 30 minutes after take off, and closes down before top of arrival descent. Screen size is good in First, but the choice of Western/International movies and TV programmes reminds you this is a Chinese airline, and well below standards in this area.
Two local English language Chinese newspapers are offered, but no English language magazines or foreign newspapers are available. A small amenity pouch labelled as L'Occitane is at the seat; aside from a small L'Occitane lip balm and body lotion, all other products are non-branded, cheap Chinese amenity items. You don't get anything better in the First Class washrooms, with a poor quality Chinese brand (Herborist) trying to imitate western products.
The 3 cabin staff (one Purser and 2 First Class attendants) are quite smiley, and provide the first welcome of the day from any Air China staff. A request for pyjamas confuses the younger female attendant, and after seeking translation help from a colleague, she does eventually return with these. Her service throughout the flight followed a similar pattern, and whilst cheerful and willing, she didn't understand a word of English aside from the dozen standard phrases she had been taught. These two First Class attendants did provide a fairly good level of service and attention, but for Air China's top international service one does expect staff to understand and be able to converse English.
Air China First Class Meals
The meal service is little different to Air China business class, and it simply doesn't come close to international First Class standards. A very chilled appetiser is served with plastic pots of dressing.

The soup has to be re-heated because the first serving was not even tepid. The entrée, billed as "grilled beef tenderloin with truffle cream sauce and duchess potato" would be questioned as Economy cabin food, and was wholly unacceptable. Things didn't get any better, a pre-plated cheese plate offering 5 pieces of dried up cheese and 2 stale cracker biscuits. This was followed by a stodgy and tasteless "opera" cake.
Usual choices of Chinese teas, but very poor coffee choice and coffee taste. A request for chocolates as listed on the menu was met with a simple and unapologetic response "we don't have any".
Air China First Class Trip Summary
It is apparent that despite the Air China statement to be recognised as a "world-class" airline, there is little hope of this at the present time, and Air China standards make it one of the weaker members of Star Alliance from a Quality perspective. As the country's flag carrier, Air China is being outperformed by government owned rival China Southern Airlines, and privately owned Hainan Airlines.
Thinking about whether one would want to repeat the Air China first class experience, the answer is no – unless a "very" cheap or discounted fare was available, to get the only benefit which is a comfortable seat. For the price paid for this trip, Air China First Class is a real disappointment.
This flight report is based on fully paid tickets, not airline discounted or complimentary tickets.
---