What it's really like flying around Europe during COVID-19?
We investigate how safe airports and airlines really are during COVID-19
Air travel around Europe is currently littered with travel restrictions, quarantine requirements and COVID-19 testing, but for those that want to travel by air, or have to travel for work or personal reasons, we look at how safe the experience really is, and how well airlines and airports in Europe are implementing measures to minimise the risk of coronavirus.
Is the airport crowded, is social distancing well applied, and are the hygiene standards acceptable? When it comes to the flight itself, are airlines doing as much as they can to assure customer safety and protection from coronavirus?
We have been travelling throughout Europe in recent weeks, and here we bring you the results of how well airlines and airports are applying COVID-19 policies to make you feel safe.
Face masks, social distancing, and hand hygiene are the three key elements of coronavirus prevention in everyday life, and these remain the critical factors that one must remember when catching a flight. Airports and airlines are applying safety measures to varying degrees, in addition to claims of enhanced cleaning for high-contact points. These actions are really an extension of procedures that people will have experienced day-to-day on the high-street, places of work, other public transport during COVID-19. In the airports we have visited, the experience feels no less safe than a trip to the shopping mall, but this does, of course, depend on responsible customer behaviour, and we have noted that passengers in different parts of Europe do have different attitudes when it comes to respecting social distancing.
The emerging programmes of pre-flight and post-flight testing within Europe, and now globally, is a pivotal moment for air travel, and this should deliver a further level of checks and balances that ensure the aviation business maintains its reputation for leading the way for customer safety.
In this review we look at the following airlines and airports:
» Aegean Airlines from Athens to Frankfurt
» AnadoluJet from Istanbul Sabiha Gokcen to London Stansted
» British Airways from London Heathrow to Rome
» British Airways from Rome to London Heathrow
» easyJet from London Gatwick to Milan Malpensa
» LOT Polish Airlines from Warsaw to Dusseldorf
» Lufthansa from Frankfurt to Warsaw
» Pegasus Airlines from Dusseldorf to Istanbul Sabiha Gokcen
» Ryanair from London Stansted to Hamburg
---
Flying with Aegean Airlines from Athens to Frankfurt on an A320
Departing from Athens Airport
Athens Airport has been certified as a 4-star COVID-19 Airport, and is the hub airport for Aegean Airlines. The procedures for customer information, social distancing, and hand hygiene have an appealing and coherent brand. The lack of consistency mainly relates to disparities in the markings in some high movement areas such as tax-free shopping and the placement and visibility of some hand hygiene which is not always optimal. There is also irregularity in elements of PPE use and hygiene policies at some customer touchpoints, but overall the airport is clean and organised.

Athens Airport during COVID-19
Aegean Airlines has a prime position with other Star Alliance carriers, and the check-in area is reasonably well branded, but not to the extent of other airlines at their homebase. However, it is unclear if signage and banners have been reduced to increase space and facilitate customer movement.
There are many self-check-in units available and an active staff presence to assist. The process appears largely contactless and if travelling with hand carry only there is no need to visit the counters.
Aegean Airlines boarding gives priority to Business Class and Star Gold, and window seat positions follow this. The process is well explained while customers are waiting. Bus gate boarding works adequately in preventing queues in the aisle as passengers can use both aircraft doors, but there does not seem to be a great deal of benefit over the row-by-row system used by other airlines for airbridge boarding.
Document handling is quite prevalent at the boarding gate, which is a disappointment and seems unnecessary, and this could be conducted using contactless systems.
The transfer bus is moderately full, and there are no social distance markings. For busy flights, passengers would usually be put onto two buses maximum, and it is good to see Aegean using three vehicles here.
Onboard the Aegean Airlines flight
Staff give out an antibacterial wipe at the aircraft door and extra sanitiser wipes are given with the food and beverage service.
Cabin cleanliness is visually acceptable, and seats and carpets are free of litter. There are no headrest covers on the seats. ATP testing gives good pass results on all flights suggesting that hygiene maintenance is robust.

Onboard the Aegean Airlines flight
Inflight you are served a meal bag containing a deli sandwich, biscuit, and bottled water. There is an additional bar service of soft drinks, tea, coffee and water. The food quality is fine, and the quantity is commensurate with standards being delivered by many European airlines pre-COVID. There is a further info leaflet regarding hygiene measures in addition to a sealable waste bag, anti-bac wipe, and tissue. Staff collect the litter efficiently.

Onboard the Aegean Airlines flight
Aircraft are equipped with the Aegean STREAM system. The concept is promising, but the content does not carry a great deal of mainstream interest. There are no films or TV programmes, and videos are travel guides or airline promotions. There are Greek, French, Italian and German newspapers but nothing in English. There is Newsweek magazine in English in addition to one German and French magazine and the airline inflight magazine. The gaming section best represents an area where standards are similar to other carriers' long-haul content. The live map lacks much useful detail aside from ground speed and altitude, and this is better for the overhead screen mapping.

Onboard the Aegean Airlines flight
Staff are efficient and business-friendly, but naturally the scope of interaction is limited during these times. Staff do enforce correct face mask use amongst customers, and also wear appropriate PPE, including masks and gloves. While staggered deplaning is meant to be provided on each flight, staff initially try to control this, but give up as an increasing number of customers stand in the aisle once the seat belt sign is turned off.




---
Flying with AnadoluJet from Istanbul Sabiha Gokcen to London Stansted on a Boeing 737-800
Departing from Istanbul Sabiha Gokcen Airport Airport
AnadoluJet operates a hub at Istanbul Sabiha Gokcen Airport which has a 3-Star COVID-19 Airport Rating. While terminal access is strictly enforced to ensure this is for customers only, the ticketing checks cause crowding, and there is a further pinch point at the terminal entrance security screening where there is little social distancing.

Flying from Istanbul Sabiha Gokcen Airport during COVID-19
Information for COVID-19 policies is provided across the airport, but aside from issues with the size, prominence, and quality of displays, there is also a broad range of styles used between the airport operator, dining, and retail outlets which creates a confusing message for customers. Hand sanitisers are quite frequently provided, but the unit appearance does not stand out, and these are of a basic design.
AnadoluJet has a centralised check-in procedure for most flights, but specific routes are subject to additional pre-flight document validation, and this creates some wayfinding issues as this is not shown on the flight information screens.
Despite the strong staff presence, social distancing is not adequately enforced in the queuing areas. Similarly, some of the check-in techniques are unconventional as staff come through the line to take the customers passport to complete the check-in process at a nearby self-service unit. There is a further passport check by another member of staff – this is a high-contact process.
Boarding does not apply any proper zonal system, and there are queues at the scanning counter which are not correctly distanced.
Onboard the AnadoluJet flight
At the airbridge entrance, a member of ground staff checks customer temperatures with a digital thermometer. As customers reach the aircraft door, there is a box containing hygiene kits for customers to take onboard. This includes a PPE mask and two antiseptic wipes. It is a self-serve system, so this is a potential contamination point.

The cabin onboard the AnadoluJet flight
Today's aircraft, a Boeing 737-800 with the latest Sky Interior. While areas of cabin maintenance for seat cover presentation, cabin panels, and the seat table appearance are a bit shabby, ATP testing indicates the surfaces are clean.
While the number of passengers on this flight is reasonably high (approximately 60 to 70%), there has been no attempt by the airline to maximise the distance between customers. Some rows have three passengers, other rows just one, and it seems this could be managed more carefully by the airline.
Staff are responsible at managing face mask usage on this flight. In addition to wearing correct PPE, they do remind passengers of the proper mask-wearing protocol.
The inflight meal is a sealed bag containing a sandwich, cake, bottled water, and peach juice with an extra napkin and antiseptic wipe. The service is prompt after departure, but the attention for clearing away the litter could be much better, and on arrival, there are plenty of the empty bags, packets, and wrappers littered around the cabin.

Inflight snack served onboard AnadoluJet flight during COVID-19
The arrival scenes are chaotic, and there is no attempt at row-by-row deplaning that is used by many other airlines, and this highlights procedural changes that AnadoluJet could implement to improve customer experience in COVID-19 times.




---
Flying with British Airways from London Heathrow to Rome return on A320's
Departing from London Heathrow Airport
London Heathrow Airport is certified as a 3-Star COVID-19 Airport. While there are some good measures including the thoroughness of information signage, availability of hand sanitiser, and adherence to face mask usage there were too many inconsistencies to meet a 4-Star rating at this time. At the British Airways bag-drop, there is a minimal focus on enforcing any social distancing, and there are not many floor markings or signage to encourage this.

Departing from London Heathrow Airport during COVID-19
Staff check passports at the end of the line, and this involves physically taking the document. This is done again 1 minute later by another member of staff after a temperature check. Given what we read about the contactless travel experience, it is most disappointing.
Bag-drop is self-serve and easy, but there is no obvious sanitisation of the screens. The hand sanitiser is back towards the queuing area so customers must backtrack here. However, none of the British Airways branded hand sanitiser points tested worked during this experience.
The adapted boarding experience works quite well and prevents any queuing in the airbridge. However, it was a disappointment that British Airways gate staff again handle both the passport and mobile boarding pass. The member of staff also has the PPE mask hanging loose from one ear (maybe not a legal requirement but staff should be leading by example in the airport). Again, the hand sanitiser after the boarding counter does not work.
Onboard the British Airways flight from London to Rome
The staff welcome is positive, and customers are given a hygiene pack with a wipe and hand sanitiser sachet. The initial visual impression of cabin presentation is quite strong, and certainly, carpets and seat covers are free of debris and appear fresh. The seat area is ATP tested and the table reading suggests the cleaning technique or products are suboptimal. The window side armrest reading indicates the armrest was not cleaned or sanitised for some time.
The Economy Class inflight service delivery is efficient and polite. While we understand this is a temporary measure – the return of complimentary food and beverages in Euro Traveller is most welcome and meeting a good standard.

The complimentary Economy Class snack served on British Airways during COVID-19
Staff are sensible in the collection of litter, and this means that there is not too much unnecessary cabin presence, but items are also not left too long. While there is a short period of the flight where 3 or 4 crew are congregated in the rear galley having a personal conversation, the overall feeling is that staff behaviour is safe and conforming to appropriate social distancing.
Washrooms are quite grubby, and one might expect more active monitoring given the reduced duties. There is no hand sanitiser, and it is unclear if the soap is antibacterial.
The purser provides a good representation of British Airways standards with excellent and personal PA content.

The staggered deplaning process is slow but prevents queues, and is well applied by the cabin staff.
---
Departing from Rome Fiumicino Airport
Rome Fiumicino Airport is the world's first Airport certified with the 5-Star COVID-19 Rating. Their systems and procedures meet a rigorous standard with excellent signage and information systems. The airport has an in-house Bio-Safety Team to facilitate social distancing and ensure compliance with face mask usage and ATP tests indicated that cleaning is to a good standard.
The British Airways check-in area has restricted space and queuing capacity and limited social distancing observed. As there are only two counters available the speed of service is slow for Economy Class. Club Europe check-in has a short waiting time. Business Class customers can use fast-track security processing, but given the airport is quiet at this time, there does not seem to be any time or social distancing advantage.
Boarding is by row and Club Europe has priority, but this is not announced over the PA. Otherwise, British Airways first call customers for the rear rows of the aircraft, and then sequentially to the front. The pace of service affords adequate social distancing. The mobile boarding pass scan is contactless in Rome, but staff still take the passport by hand for identity checks, and this does seem unnecessary when the photo page can be easily shown by customers.
Onboard the British Airways flight from Rome to London
In Business Class, hygiene kits are delivered personally – rather than at the aircraft door. There was a delay to this flight and it would seem preferable to have a means of wiping down the table and seat area, so these could be given at the aircraft door.
The aircraft is visibly grubby with crumbs on the console space and seat base. At the same time, the crew announce over the PA that the cabin has been cleaned, while our ATP test readings for the tray table and central console suggest otherwise. At best, the cleaning is ineffective in technique or product, but the debris indicates it was not completed. There are large items of litter in the seat pocket from the previous flight, further supporting this notion.
The Business Class bar service has an excellent selection and is delivered with a packet of nuts. All bar service material is plastic tumblers. The staff provide a consistent and responsive service here, and there are frequent refills.
The Business Class meal comprises a DO+CO branded lunchbox with a choice of chicken and coleslaw sandwich or beetroot hummus. The quality is excellent, as is the small couscous salad and the chocolate mousse is divine.

The Business Class meal served on British Airways during COVID-19
Staff excel on this flight with attentive service and despite the full cabin they manage to address all customers by name. As one expects at these times, there is not an abundance of personal contact, but the crew try, and it is a very friendly experience.

There is useful information regarding the arrivals process at London Heathrow Airport, and staff give a thorough explanation of the process and reconfirm the need for contact tracing details to be prepared before entry is permitted to the UK.
---
Flying with easyJet from London Gatwick to Milan Malpensa on an A320
Departing from Gatwick Airport
London Gatwick Airport is certified as a 3-Star COVID-19 Airport. The airport provides an extensive range of COVID-19 procedures, and with minor improvements, Gatwick Airport could improve to 4-Star COVID-19 rating levels.
easyJet has an excellent check-in facility and with low passenger numbers, the space is free of queues. Staff deliver a contactless service and refuse to handle customer documents and passports.

Departing from London Gatwick Airport on easyJet during COVID-19
Using the smartphone app, it is simple to add baggage and complete online check-in, this also gives the option of browsing the bistro menu, and one can download the inflight magazine. There is reasonable functionality for live updates, and this sends reminders about the paperwork required for the destination and other flight operational guidance.
Boarding is organised and begins with Speedy Boarding and those rows from the rear. It is well monitored and completed efficiently.
Onboard the easyJet flight
The first feeling of cleanliness is positive on entering the aircraft, and this gives a strong impression. ATP testing of the table area confirms high standards with a low pass score. Seat pockets are clear, and all elements of the seat back and base are spotless, and the carpet is free of debris.
The regular bistro menu is available, but this can only be viewed on the app or online so make sure to download for reference. The choice is quite reasonable, and there are some appealing multibuy offers.

Onboard the easyJet flight during COVID-19
Customers can read the inflight magazine if using the app, and the only annoyance is that it requires a further download, so you must remember to do this before leaving the gate. The content is quite good, and the electronic format is nicely adapted for smartphone screens. While there is advertising, this does not feel too intrusive.
The crew are friendly and speak good English. There is a good, full account of the new processes and regulations regarding the storage of bags and personal belongings, washroom use, and face masks – some of which are unique to the destination. The announcements are appropriate on this flight as some easyJet staff can be intrusive and annoying with the volume of communication. Staff adherence to PPE is good throughout the flight, and there are contactless systems in place for buy-on-board transactions which are well applied by the cabin crew.
While easyJet applies a staggered row-by-row deplaning process, some customers on this flight ignore the staff instructions, and the staff do not control this in any way.

Cabin presentation and cleanliness stand out as a highlight for easyJet, and amongst the strongest seen since the emergence of COVID protocols. Importantly, having taken a range of easyJet flights, this seems to be consistent. Ground handling standards also seem reasonable, and notwithstanding the proximity of seating in the aircraft, easyJet has done as much as it can to facilitate social distancing – but modest passenger numbers on some flights also assist this.
---
Flying with LOT Polish Airlines from Warsaw to Dusseldorf on an Embraer 175
Departing from Warsaw Chopin Airport
LOT Polish Airlines operates from Warsaw Chopin Airport which is a 3-Star COVID-19 Airport. Customers using the airport will find consistent COVID-19 signage and information, but the size, positioning and design are not well optimised or clear.
LOT has a large check-in area in Zone E, and this has good branding and visibility. The space has been moderately adapted for social distancing, and the low number of passengers meant that queues are minimal. There is a large, enhanced area for Business Class passengers which has excellent space.

Departing from Warsaw Chopin Airport with LOT Polish Airlines during COVID-19
Self-check-in is encouraged, and the units here are simple to operate. There is minimal contact from staff unless one needs to use bag-drop.
Boarding is via bus, and therefore no system is applied to enhance social distancing. The process at the gate is contactless, and for small regional aircraft such as the E175, there is ample space available for each customer.
Onboard the LOT Polish Airlines flight
Shortly before take-off staff provide an antibacterial wipe for sanitising hands and the seat space. For the flight to Germany, an information leaflet from the German government regarding Coronavirus is provided – however, this was dated March/April 2020, and unfortunately, the guidance appears out of date.
Visually, the cabin was clean, although slightly dated and worn in some areas. ATP testing delivers a caution score for the tray table. The seats have blue fabric headrest covers (non-disposable), so it is not clear if these are changed between flights.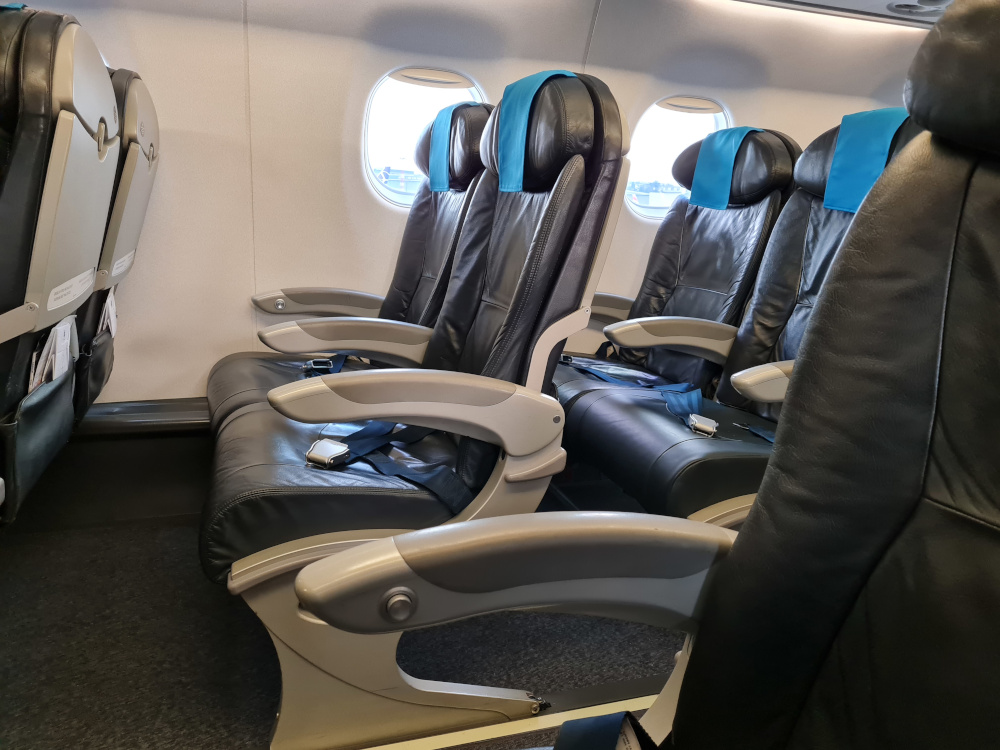 Onboard LOT Polish Airlines flight during COVID-19
Strangely the cabin staff advertise a buy-on-board service shortly after departure but then deliver free water, followed by a choice of a blueberry or spinach bun, and a packet of pretzels or snack mix. It is only after this that the buy-on-board element is offered, which seems to mainly be an enhanced drinks service for which the selection is outlined in a menu in the inflight magazine. The quality of items is more than adequate for the flight duration.

Snack served onboard LOT Polish Airlines during COVID-19
There is no inflight entertainment, but LOT has recently launched its e-press service for passengers to download a choice of international reading materials. LOT is unusual in that it is the only airline that we have travelled with recently that is still providing a printed inflight magazine.
Staff service is efficient, and for short flights, the inflight food items are quickly delivered, but this is in several stages, and therefore there are more contact points than one sees compared to other airlines. The packet pretzel snacks are offered in a communal basket format which could be viewed as an unnecessary contact point, but otherwise, the service is reasonably adapted for COVID times. PPE standards are acceptable for the cabin crew, and there are frequent reminders regarding correct mask usage.

Staff do not implement any control measures for deplaning, and this is an area where there is potential to increase the scope of social distancing for this high movement phase.
---
Flying with Lufthansa from Frankfurt to Warsaw on an A320
Departing from Frankfurt Airport
Frankfurt Airport is a 4-Star COVID-19 Airport, and provides a number of Best Practice examples of coronavirus protection measures, and this is particularly thorough at check-in and baggage reclaim areas, as well as for the consistency of social distancing seat markers, which are clear and appealing.
Lufthansa check-in has been well adapted for COVID, there are socially distanced queue systems and hand sanitiser units close to the check-in and the CUSS units.

Departing from Frankfurt Airport with Lufthansa during COVID-19
Mobile check-in is encouraged on the lead up to this flight, and customers travelling with carry-on baggage do not need to visit the counters.
Boarding is staggered by zone, but otherwise, this is not adapted in any way from standard Lufthansa systems. As this is a Schengen flight, customers board themselves using the self-scanner, and there is minimal staff contact. In the aircraft, staff give an antibacterial wipe for hand sanitisation.
Onboard the Lufthansa flight
The initial visual assessment of cleanliness looks okay for core contact areas. However, on unfolding the table, there is a mark from a hot drink in the corner and ATP testing the unit gives a fail score confirming the table has not been sanitised before boarding.
There are reminders for customers regarding the correct use of face masks, but overall, the PA announcements are not much different from a typical Lufthansa regional flight, and this feels like the least information received from an airline regarding COVID-19 measures.
Staff serve bottled water shortly after departure and a choice of tea or coffee follow this. There is no food service – not even a biscuit!

Onboard Lufthansa flight during COVID-19
The FlyNet portal is available on this aircraft which provides basic WiFi access for €5 or streaming standard internet for €10. Customers may also browse a selection of publications from Lufthansa's e-reader library, but these must be downloaded before departure.
This was a late departure, and perhaps this affects everyone's enthusiasm, and the service delivery is relatively stoic at all contact points. Staff do not bother to come back and collect the litter, and this is not noticed until final safety checks, and customers are encouraged to put the items into the seat pocket.

Lufthansa operates a section-by-section deplaning process, but this seems quite arbitrary with between 5 and 10 rows called at a time. It is initially politely enforced, but due to a series of violations by customers, staff enforcement becomes quite terse. It does not help that announcements are only in German and English, and language issues are probably a factor here.
---
Flying with Pegasus Airlines from Dusseldorf to Istanbul Sabiha Gokcen on a Boeing 737-800
Departing from Istanbul Sabiha Gokcen Airport
Pegasus Airlines (PGS) operates from Sabiha Gokcen Airport in Istanbul which is a 3-Star COVID-19 Airport, and from a broad range of destinations in Europe, Africa, and Asia. This Pegasus flight was from Dusseldorf Airport, Germany.
Dusseldorf Airport is rated as a 4-Star COVID-19 Airport and has introduced a reasonable concept of COVID-19 information resources and hand sanitising systems, and this is particularly good in check-in and arrival areas. There is a consistent policy of social distancing indicators in seating areas, and in the main queuing points for check-in and security.

Pegasus Airlines check-in area at Istanbul SAW during COVID-19
Pegasus Airlines has a simple check-in layout of three counters, and this has been adapted for social distancing with a vacant desk between each service point.
While Pegasus Airlines is a low-cost carrier, current Turkish regulations restrict cabin baggage to a small item only (e.g. laptop bag, rucksack, purse), so all customers receive a free item of checked luggage which is a generous 20kg.
Boarding is from the C concourse at Dusseldorf. This is mostly empty and many of the commercial outlets are closed. Pegasus Airlines gives priority boarding for some customers, and despite the suggestion that subsequent passengers will board according to row position, this does not occur. At the aircraft door, the cabin staff are measuring customer temperatures with an infrared thermometer in accordance with Turkish government regulations.
Onboard the Pegasus Airlines flight
Cabin cleanliness and condition is noted to be poor upon boarding. The seat covers are faded and marked, the seat to the front is dirty and stained, and the window is opaque and smeared thick with residue. ATP testing of the table delivers a fail result.

In the cabin on Pegasus Airlines flight during COVID-19
Pegasus Airlines airline does not give any sanitising wipes during boarding, so customers would need to take their own to provide the various contact points of the seat a clean.
There is a range of buy-on-board products and pre-order hot meals and staff quickly begin the service after take-off. Pegasus has removed the physical menu but has not replaced this with anything electronic, so the progress of the sales is slow as staff have to explain the choices to customers, serve and then take payment. Added to this is the fact payments are not contactless and the machine used also seems to serve as the point-of-sale system, and there is only one unit between two staff. In addition to being slow and laborious, it becomes a very high touch item.

Buy onboard food & beverages onboard Pegasus Airlines flight during COVID-19
Given the lack of menu, the pricing is unclear. It was a TL108 (approximately £11) for a small sandwich, potato chips, and a small beer – not brilliant value given the portion sizes. The quality was okay but you could have had a decent meal at the airport for these rates.
Pegasus Airlines have a streaming service available called Fly&Watch, and while the network was detected, this does not function throughout the flight. The airline website shows a promising library of content, including Hollywood movies, TV shows, music, and games. There is a modest add-on charge for this of 2.99EUR which seems reasonable if you do not have your own downloads.

Staff service is adequate for languages and the communication of COVID-19 protocols. The airline could improve the speed of service, but this seems to be an equipment and service protocol issue. Aircraft cleanliness was a disappointment and did not seem to be managed in any way by the staff before boarding. For arrival, staff announce the implementation of a staggered deplaning, but this is not enforced, and customers do not listen. It is a remote gate arrival, and it is good to see that social distancing is being recommended on the bus.
---
Flying with Ryanair from London Stansted to Hamburg on a Boeing 737-800
Departing from London Stansted Airport
London Stansted Airport is a 3-Star COVID-19 Airport. The airport provides a clear concept of guidance signage and information for COVID-19 procedures, and although this is relatively consistent between the different terminal areas the design lacks the enhanced presentation and strength of branding observed at other airports.
The allocation of hand sanitiser points is limited around the check-in, departure gate, and arrival areas. Some restaurant and shopping outlets offer this, but the quantity is much less than other airports in the UK and elsewhere in Europe.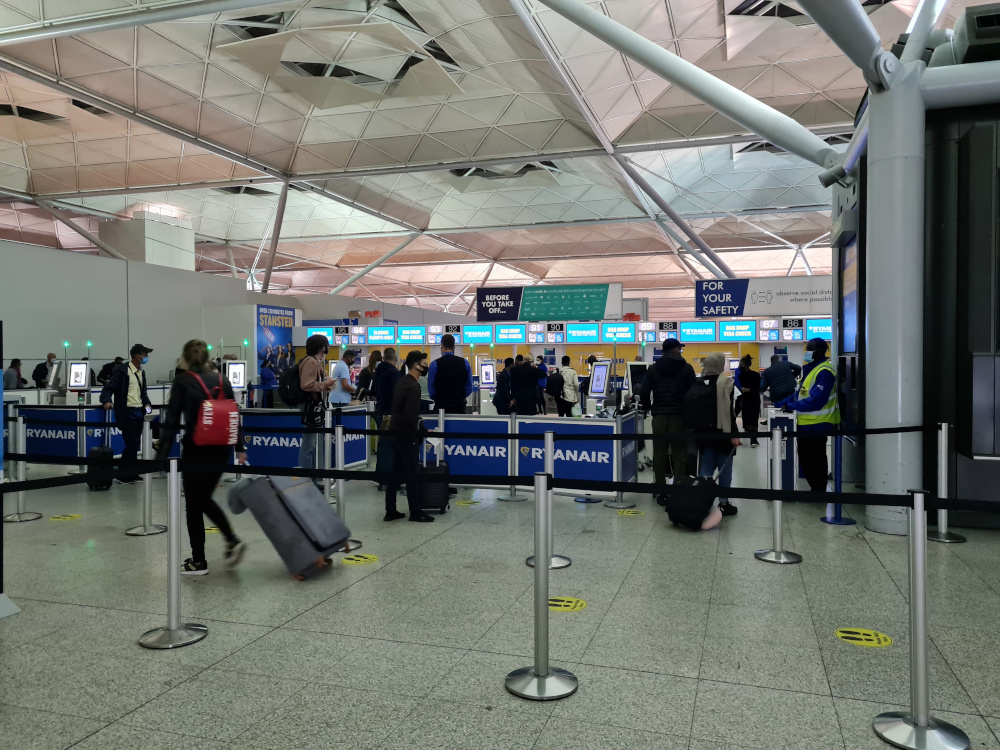 Flying out of Stansted Airport with Ryanair during COVID-19
The check-in area has a reasonable degree of organisation for Ryanair and a strong brand image. The airline is giving adequate space for queuing, and most passengers seem to be responsible with social distancing. Queue staff seem to make minimal contact with customer documents, and bag-drop is fully automated. It is unclear what cleaning protocol the airline has in place for hygiene here.

Flying out of Stansted Airport with Ryanair during COVID-19
The Ryanair app is simple to use for check-in, and this is good for adding baggage and seat selection. While the flight is not busy, Ryanair is doing nothing proactive to aid social distancing, and the in-app seat map suggests the algorithm is still mainly allocating the middle seats and leaving unappealing windows and aisles. The pricing of seat selection is very dynamic as completely empty rows are charged at a £2 to £4 premium over the regular £4 fee for standard seats.
Boarding is on-time, and priority is honoured. The unacceptable disappointment is the staff handling of documents at the gate, which involves touching both the passport and the mobile boarding pass. The experience is efficient, and staff give a Passenger Locator Form for Germany, but there is confusion as to whether these are needed. There are frequent announcements regarding the various service policies and changes via the PA, and these are all clear.
Onboard the Ryanair flight
The cabin is basically clean during boarding, and the seat covers and carpets are free of debris. There are some marks and stains to the cabin panels, and tray table and the windows do not look particularly clear. However, the table delivers a pass rating when ATP tested which suggests the aircraft has been correctly sanitised overnight. As Ryanair is maintaining 25-minute turnarounds during daily flight operations, one assumes no cleaning takes place throughout the day.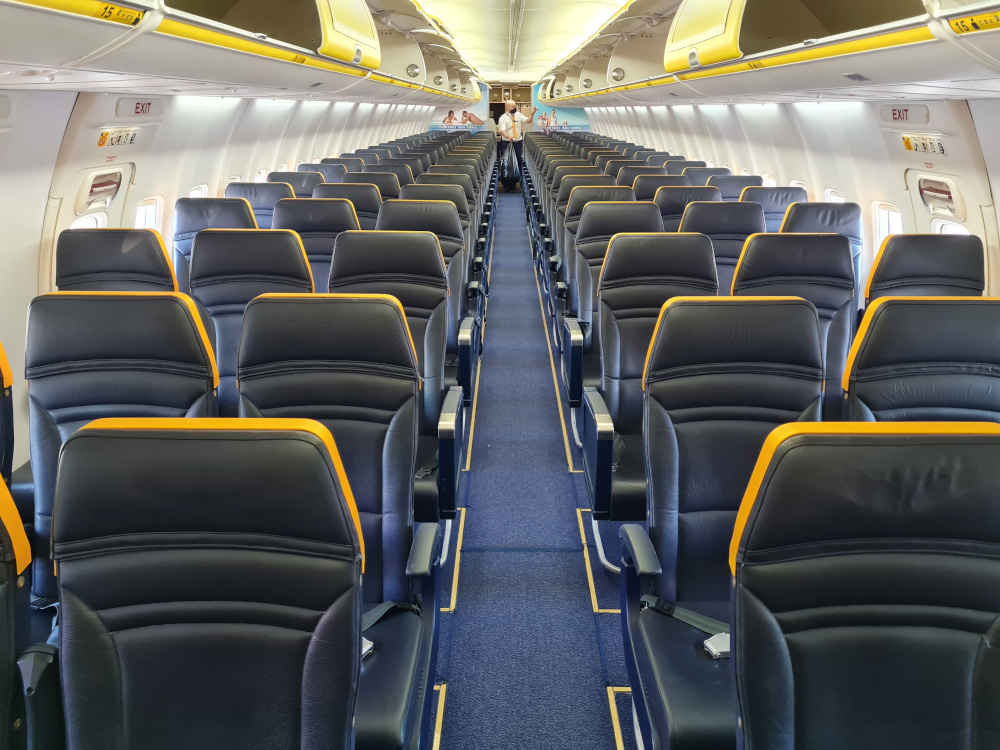 Onboard the Ryanair flight during COVID-19
The usual selection of Ryanair food and beverages are available, which is street level priced for the most part. The main disappoint is the lack of stock which for the third flight in a row for Ryanair lacks essential items – this time it was pastries, last time it was coffee, and this is observed for early morning departures from hub airports.
Customers may read the inflight magazine and access the food and drink menu if using the app.
Staff are pleasant enough and communicate well with customers for F&B and COVID requirements. There is otherwise limited function and presence, but PPE is consistently used, and there are adequate reminders for the correct protocols during boarding and arrival.
Ryanair does not deplane customers by row or zone, so there is some congestion in the aisles, which could be better managed during arrival to facilitate social distancing per the standards delivered by other airlines. However, it is assumed that elongating the arrival process would impact the speed of aircraft turnaround to an unacceptable timing for the airline.