Philippine Airlines is Certified as a 4-Star Airline
Philippine Airlines (PAL) has been Certified with the 4-Star Airline quality ranking by SKYTRAX, the international air transport rating organisation.



» View Philippine Airlines 4-Star Airline Rating
This 4-Star Airline rating is a mark of quality distinction that recognises excellent standards of Product and Staff service across different assessment categories for both the Onboard and Airport environment. Commenting on the 4-Star Airline Rating awarded to Philippine Airlines, Edward Plaisted of Skytrax said: "this recognises the great improvements that the airline has introduced over the last 2 years, both in terms of product change and development and enhancement of the front-line staff service. New and retrofitted aircraft have played an important part in the quality improvement process, and this looks set to develop further when Philippine Airlines introduce the A350 into their fleet. We look for consistency of quality in the 4-Star rating, and we now entrust Philippine Airlines to ensure this is duly delivered to customers."
"This is a big win for the Philippines," said PAL Chairman & CEO Dr. Lucio C. Tan. "We are elated by this recognition which is a victory for the more than seven thousand members of the Philippine Airlines family. Our achievement is the country's achievement and we share this with all Filipinos around the globe."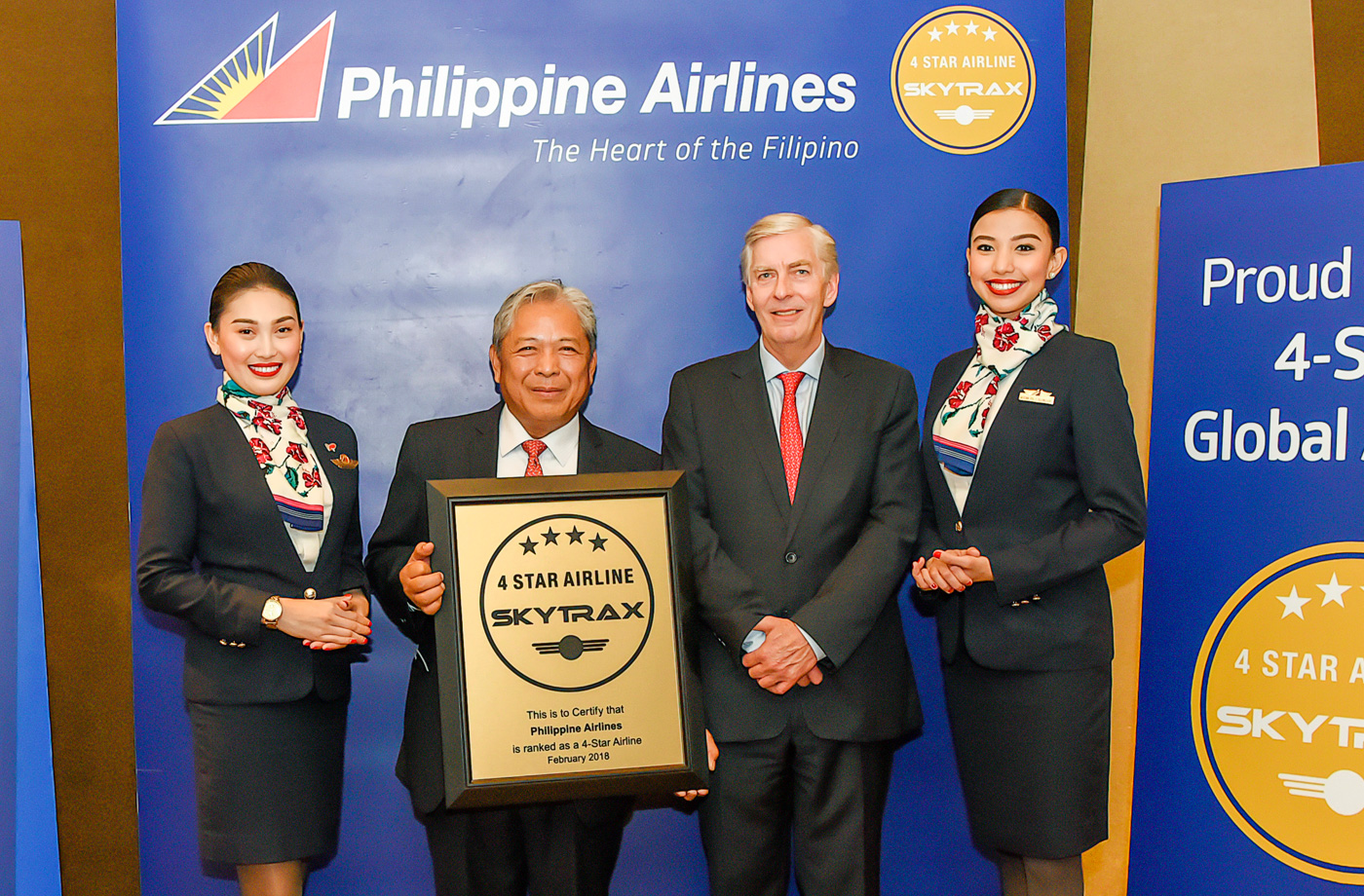 Philippine Airlines achieved this coveted rating after Skytrax conducted a rigorous audit across the airline's inflight and ground service for both international and domestic flights and noted major enhancements on its end-to-end passenger experience and distinct whole-hearted service called Buong Pusong Alaga.

Distinct whole-hearted service
The rating upgrade is a key result of a multi-year top-to-bottom end-to-end enhancement of the Philippine flag carrier.



"Our Get That Star journey began in 2016. Our efforts over the last two years have borne fruit," said PAL President and COO Jaime J. Bautista. "Since 2016, we have embarked on a journey of rolling out in-flight and on-ground innovations, opened new routes, increased connectivity across PAL's route network, added new aircraft to our fleet and importantly, invested in the Buong Pusong Alaga ( whole-hearted) training of all our cabin crew, ground crew and service providers domestically and internationally in order to enhance the passenger travel experience and earn a higher Skytrax rating," added Bautista.

Chefs whip up exciting dishes for domestic regional and international flights
From 2016 up to the present, the PAL Group finalized fleet orders of Airbus A350s, A321s, Boeing 777s and Bombardier Q400 Next Generation planes bringing the fleet count to 88 aircraft, the largest fleet in the Philippines; developed new domestic hubs (Clark, Cebu, Davao); introduced new international routes from Clark (to Seoul) and Cebu (to Bangkok, Chengdu, Beijing, etc.); launched direct nonstop services between Manila and Auckland and Manila and Toronto in addition to existing direct flights to London, San Francisco, Los Angeles, etc; improved on-time performance while maximizing fleet productivity; and strengthened its passenger care through the "Buong Pusong Alaga" (wholehearted service) philosophy, leveraging on its Brand Equity as the "Heart of the Filipino."
Eight of the airline's 15 Airbus A330s have undergone a total cabin transformation from a single economy to a tri-class cabin providing maximum comfort on all classes. The latest Boeing 777s and the incoming Airbus A350s will further upgrade the PAL fleet for the airline's long-haul international routes.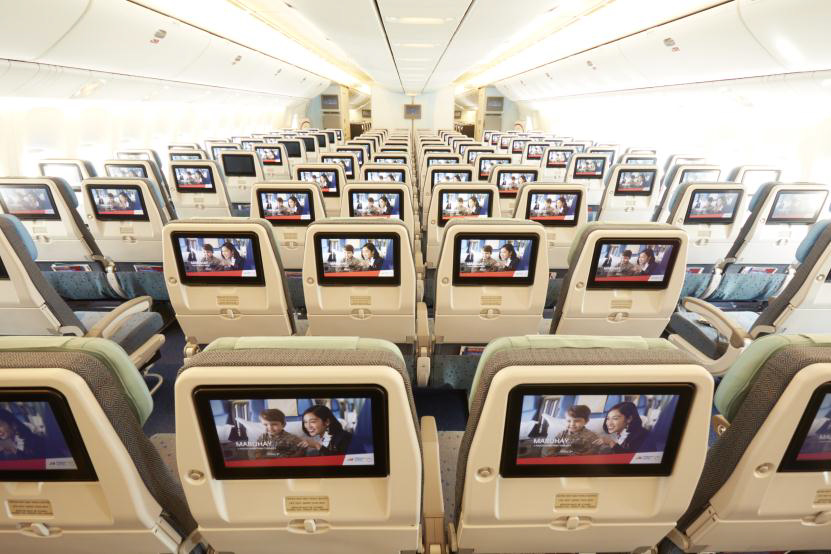 Boeing 777 economy class
PAL rolled out its myPAL eSuite personal TV service that gives passengers access to a wide selection of movies, music and TV shows via touch screen monitors in all classes of many PAL aircraft, while myPAL Player provides in flight entertainment using passengers' ownd device. myPAL Wi-fi access allows passengers to surf, browse and stay connected.

Boeing 777 business class
For better on-ground service at airports, PAL renovated the inter-terminal transit lounge at the NAIA Terminal 2, improved its business class check-in product, introduced a more efficient boarding procedure and put up airport terminal signage for passenger convenience. The next big step is a new, bigger and more sophisticated Mabuhay Lounge to open by the second quarter of 2018.
With the 4-Star rating now certified, PAL aims to intensify efforts as it continues unveiling new products and expanding routes, including the launch of nonstop services to New York and Brisbane as well as flights to India and additional routes to Japan and China within 2018.
"By offering the public a globally competitive airline service, we are empowered to attract more tourists to visit the Philippines, experience our country's beauty and our people's warmth, and to generate more economic activity for the Philippines," said PAL President Bautista.
Skytrax completed the quality audit evaluation of Philippine Airlines in December 2017, examining in detail all product and service delivery areas across the customer trip experience.
---
ABOUT SKYTRAX RATING
Introduced in 1999, this is the leading international Airline Rating system that classifies airlines by the Quality of front-line product and staff service standards. Airline Star Ratings are recognised as a global Benchmark of airline standards, managed by SKYTRAX, the international air transport rating organisation.
---
Related Links
» Philippine Airlines customer reviews
» News Headlines
» Special features
---