Lounge Report : Zurich Airport VIP Lounge
Indulge in some Confiserie Sprungli
LOUNGE INFORMATION
Zurich Airport Lounge is a VIP lounge facility, offering a luxurious and peaceful oasis of calm, separated from the hustle and bustle of the main terminal area.
ACCESS TO THE LOUNGE
Lounge entrance can be pre-booked through Zurich Airport with a range of different options available. For departing customers, the service can include assistance by a porter service with check-in, Priority service through security checks, use of the VIP lounge facilities and a limousine transfer directly to the aircraft. Similar options can be provided to transit customers, who can be met on arrival with a Limousine transfer from the aircraft to the VIP lounge. Zurich Airport VIP Lounge is a 3 minute walk from the main terminal Security check, and located one floor down from the main departure hall.




LOUNGE LAYOUT
As you enter the lounge there is a large reception area. You proceed through to the main lounge area, the restrooms and shower rooms are located to your left. As you move towards the main lounge area, there is a smoking room offering a good range of cigars, two private offices with computer facilities, and behind that is the rest area.
There is a large wall cabinet display, containing (of course!) a wide selection of premium brand Swiss watches. To one side of the lounge is a meeting room, and a more private VIP room suitable for up to about 10 customers.
The main lounge is beautifully presented and furnished, offering a choice of seating areas. There is a large bar area, restaurant area and self serve food and beverage options.
LOUNGE DINING
There is an a la carte menu offering a good choice of food options prepared freshly for you, and an extensive selection of wines and other beverages. A self serve buffet area provides a nice choice of sweet and savoury snack items.
A special feature is a trolley of Studer & Co finest-quality fruit brandies and eaux-de-vie. For those with a sweet tooth, indulge in the Confiserie Sprüngli chocolates and truffles.
SHOWERS & TOILETS
The lounge offers luxury shower room facilities, equipped and with a nice range of amenities. Separate male and female toilet areas are modern, bright and spotlessly clean.
REST AREA
There is a nice area for rest and relaxation, with soft lighting and providing 4 nice sleep cubicles. This is set away from the open lounge section and seemed very peaceful.
WIFI / COMPUTERS / INTERNET
A good and fast Wifi service is available. There are 2 small workstation offices with computer facilities, and a separate meeting room can be booked if needed.
STAFF SERVICE
Efficient and discreet sums up the professional lounge staff that look after customers extremely well. When it's time to board, a lounge concierge escorts you out to a waiting BMW 7 series limousine, and whisks you to your departure flight boarding gate.
VERDICT
This is a very nice VIP lounge, and if you are looking for more privacy and exclusivity than a standard airline lounge, this is the best option at Zurich Airport. Consider also in the additional limousine service to and from your flight, and it is easy to realise the benefits.
Restaurant area
Champagne Lanson
Delicious sweet treats
Studer & Co fruit brandies
Luxury shower rooms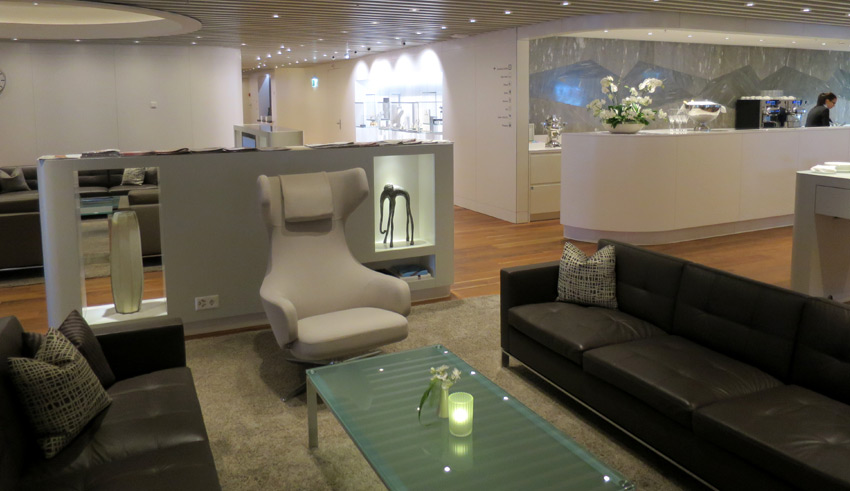 Inside the lounge
---
---