Review of Vietnam Airlines Lotus lounge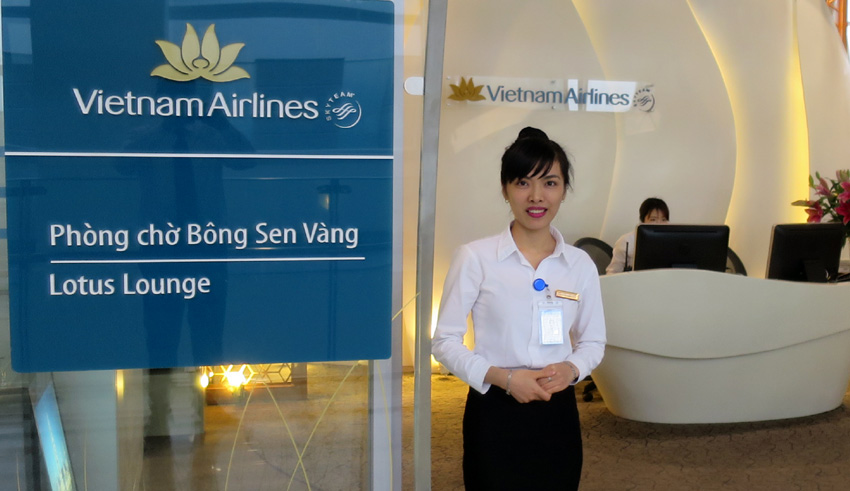 A warm welcome to the Vietnam Airlines Lotus lounge in Hanoi
LOUNGE INFORMATION AND ACCESS
The lounge is located on the 2nd floor of the airside departure lounge, and is clearly signposted after passing security. There is an escalator leading up to the lounge entrance. This lounge can be used by Vietnam Airlines Business Class passengers, Golden Lotus Plus Platinum members and Skyteam Elite Plus Card members of Skyteam member airlines. The normal opening hours for the lounge are from 06.00hrs through until 02.00hrs.
The lounge also serves as a "handling" facility lounge for most other international airlines operating out of Nội Bài International Airport in Hanoi, and this can result in the lounge being quite busy at peak periods. During this lounge visit, there were just a couple of regional Vietnam Airlines departing and the lounge was quiet.




LOUNGE LAYOUT
As you enter the lounge you face the reception counter. Behind reception there are some lockable storage cupboards where passengers can store hand luggage. The lounge is quite open in layout, and offers 3 main areas with different types of armchair seating, plus some dining tables closer to the buffet area.



Lounge Reception

The lounge interior is clean and modern, and with floor to ceiling windows it has a good view out across the apron and runway areas. Furnishings are of a reasonable standard, and seat comfort is fine for a 2-3 hour stay in the lounge. At one end a small section has some recliner chairs, although this is not very well separated from the lounge and was also noted to be quite bright for anyone wanting to take a nap.



Bar counter

A staffed bar counter offers wines and alcoholic beverages, the food is presented across a large self-serve buffet counter. Refrigerators provide a good choice of chilled soft drinks. There is a smoking room that seemed to have good air extraction in place, and there is also a massage room that provides 3 massage chairs.




LOUNGE DINING
The lounge offers a variety of hot and cold snack food dishes, varied according to the time of day you visit the lounge. The selection covers a mixture of Vietnamese foods as well as some plainer western options. Of those sampled during this visit, the standards were found to be quite satisfactory, particularly when assessing the lounge from a regional lounge operation aspect.



Lounge catering



Lounge catering

SHOWERS & TOILETS
The washrooms are reasonably modern, and were clean and very well presented. There are shower rooms at the back of the washroom area, and whilst not the most private or luxurious facility, they provide a reasonable amenity. Functionality is definitely the style that has been adopted here, but some reasonable amenities and nice towels are supplied.



Shower facility

WIFI / COMPUTERS / INTERNET
The lounge WiFi is easy to access, and staff will provide the access code on request. The speed of service was found to be good for general web browsing and most email functionality. There are also workstations with computers that lounge users have free access to. There are not enough power supply / charging points and this was a disappointment and something that every modern lounge should provide. There are TV's in the lounge as well as FIDS providing clear flight information.



Smoking room



Massage chair room
STAFF SERVICE
The reception staff service is courteous, and subject to how busy the lounge is when you arrive, you may be offfered a short explanation of facilities by a member of staff. Inside the lounge, the waiting staff were found to be very friendly, very enthusiastic and portraying a happy and pleasant attitude. The lounge staff do provide a boarding advice service for Vietnam Airlines departing flights, and staff came around the lounge with a small signboard at the appropriate time.
VERDICT
This is a lounge that is fine when viewed as a shorter stay "regional" type of lounge, but it does not match the more luxurious lounges that many airlines offer in their key hub airports. During this visit, it was quiet and therefore provided a calm and relaxing atmosphere.
Staff service in the lounge was at a very good standard, and serves to underline how polite, enthusiastic and attentive staff service can often contribute as much towards the experience as the lounge facilities themselves.
Read the Vietnam Airlines flight review
» Guangzhou to Hanoi with Vietnam Airlines
---
Related Links
» Vietnam Airlines customer reviews
» Vietnam Airlines lounge reviews
» Special features
---