Flight Report: Guangzhou to Hanoi with Vietnam Airlines
Tracking the flight to Hanoi on Vietnam Airlines
DEPARTURE AIRPORT
Vietnam Airlines ground service is provided by China Southern at Guangzhou Airport. Check in had 3 counters open for this flight, including 1 allocated for Business class / SkyPriority members. Due to more than 12 passengers at the business class counter with several bags each to check in, the queuing time was unacceptable from a supposed premium service aspect. After check in, it is a 3-4 minute walk to Security, where there is a fast track lane for First / Business class and SkyPriority. On this visit, the security was quite quick, and took just 5 minutes of waiting. Immigration is also an area where you can experience long queues in Guangzhou, but again this flight departure time was during a relatively quiet period for the international terminal, and only 5 minutes waiting was required.
LOUNGE
Vietnam Airlines business class customers use the China Southern Airlines international lounge facility, but this is the poorer standard Frequent flyer section and not the standard business class section. Lounge service was very basic, as are the facilities in this FFP lounge section.
BOARDING
The boarding for this flight was conducted in an orderly manner, with a dedicated lane for business class / Sky Priority. Cabin staff were by the aircraft entrance, although the level of welcome was very muted.




AIRPLANE & CABIN FLOWN
This 2hr 40 mins flight was on a Vietnam Airlines A321 aircraft, and Business class was 70% full, with 2 staff serving this section.
BAGGAGE ALLOWANCE
Business class customers are permitted check baggage up to 30kg, and 2 pieces of hand luggage up to 7kg each.
THE SEAT
Business class seats are arranged 2×2, and with a seat pitch of 38 inches, comfort levels are fine for flights up to 3-4 hours. Seats are standard cradle type seat, with a small legrest extender. The headrest is adjustable.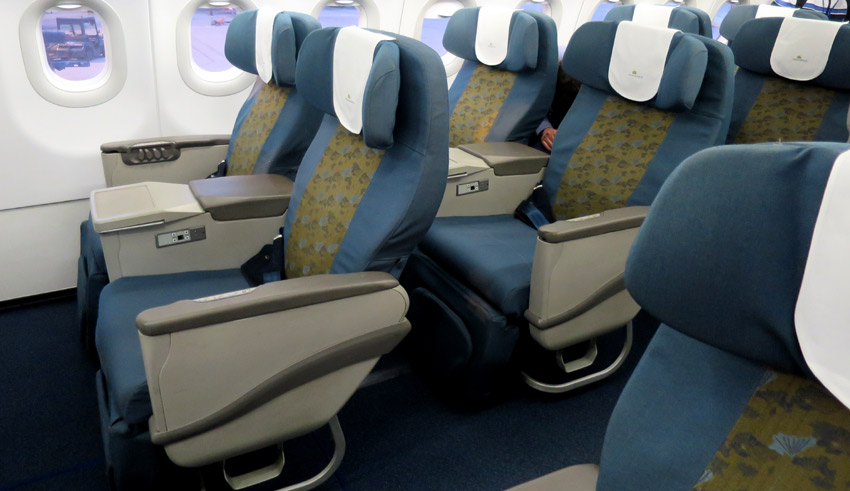 Vietnam Airlines business class seats on A321
CABIN & TOILETS
A single toilet at the front of the aircraft is dedicated for business class customers. This was checked once during the flight as was observed to be clean. There are no washroom amenities provided on these short haul flights.
SCHEDULE
The flight pushed back 5 minutes late, and despite a delay during taxiing, the arrival into Hanoi was according to schedule.
FOOD AND DRINK
A choice of water and juices are offered as boarding drinks. After departure cabin staff came into the cabin to ask passengers to choose their main course for the supper service – the choice was between fish and beef. About 15 minutes later, staff proceeded through the cabin with the serving cart, laying a cloth onto the table and serving the meal tray. Wine and other beverages were offered at this time. Warm bread rolls were provided shortly after.
Quality wise, the meal was okay. A small salad with a sachet of dressing and the hot beef entrée were both to a good standard, with good flavour. The sponge dessert option was tasteless and a disappointment. The selected white wine (Sauvignon Blanc) was good and staff were efficient at offering refills and other drinks. For a short flight, the standards were considered to be most satisfactory.

Supper service for Vietnam Airlines regional business class
ENTERTAINMENT
Vietnam Airlines do not provide in-seat PTV entertainment on these aircraft nor is there any power source in the seat. The small drop down screens showed the Airshow route map for the duration of the flight.
COMFORTS
No blankets are offered, and a small pillow could be requested from a member of cabin staff.
STAFF SERVICE
The service can best be described as functional. All of the required service items were provided quickly and efficiently, but it was done without any real enthusiasm or interest from cabin staff. Smiles were hard to come by, and there was certainly no evidence of the charm and hospitality that Vietnamese service normally provides. Whilst this was the return segment of the cabin staff duty period that day, with these flight durations one would expect to receive some more personable style of service, again when you contrast with the friendly style of service that many Vietnamese service providers can deliver.

Cabin service with Vietnam Airlines
ARRIVAL SERVICE
Arrival service was fairly simple. A single member of ground staff was outside the aircraft exit pointing passengers towards the arrival hall / immigrations area, and that was it. This new Terminal in Hanoi that Vietnam Airlines use is well signposted and walking distances not too bad, and with no queues at Immigration it was less than 10 mins from aircraft exit into a waiting taxi.
VERDICT
The flight was on time, cabin comfort levels were fair, food quite acceptable and the service efficient – so most of the requirement boxes are well ticked. The only real disappointment was the lack of personality or identity for the cabin staff service. Efficiency was okay, but these staff seemed to be in a bad mood and lacking any aspects of Vietnamese charm and hospitality.
This flight report is based on fully paid tickets, not airline discounted or complimentary tickets.
---
Related Links
» Vietnam Airlines customer reviews
» News Headlines
» Special features
---