Flight Report: Bangkok to Chengdu with Sichuan Airlines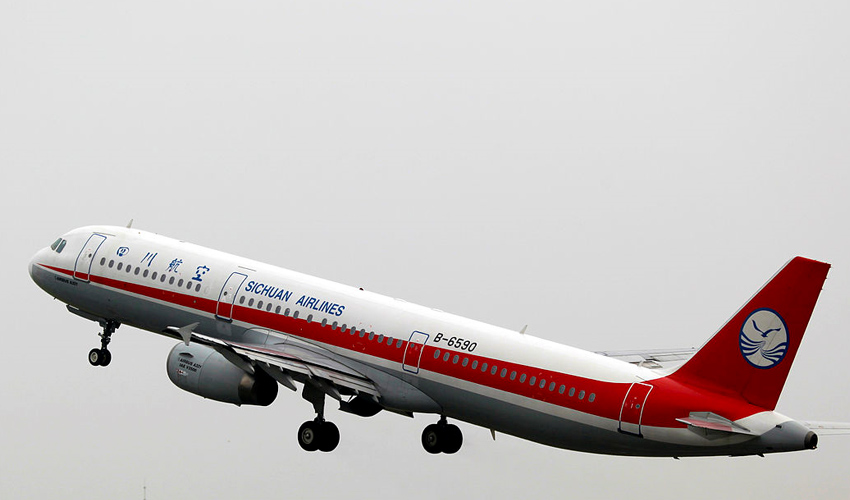 Sichuan Airlines A321 flight from Bangkok to Chengdu
Background
Sichuan Airlines operates from its home hub airport of Chengdu, as well as Chongqing. It is primarily a domestic Chinese airline operating over 100 Airbus aircraft. It is 40 per cent owned by the regional government, with the other major shareholder being China Southern Airlines, and small stakes held by China Eastern and Shandong Airlines. As well as some regional international routes (like this one to Bangkok), Sichuan Airlines also operates flights to Vancouver and Melbourne.




Boarding
The flight departure was delayed by 1 hour, and customers were provided PA information at the boarding gate by the handling agents, Thai Airways. Once boarding commenced, this was conducted with Business Class customers boarded first, and then Economy Class in row sequence. The service was quick and efficient once the boarding was in progress.
Airplane & Cabin flown
An Airbus A321 was operated on this flight from Bangkok. Business Class comprised 2 rows at the front of the plane, with seats configured in a 2×2 layout.
Baggage Allowance
Business Class passengers are permitted 3 x 23kg of checked luggage each, and 1 piece of hand luggage. (Specific carry-on baggage information is not available on the airline's website, in their ticket terms and conditions, and the handling agents did not seem to know Sichuan Airlines policy!).
The Seat
The Business Class seat has a seat pitch of 38 inches, and being configured 2×2 in this cabin, it was spacious enough for this relatively short flight of 3hrs and 10 mins. The A321 cabin was somewhat worn, and the seats whilst surface clean were lacking the padding one would expect of a modern seat.
Cabin & Toilets
The cabin was superficially clean and with a late arrival into Bangkok for the inbound flight, the cleaning process had been conducted as quickly as possible. There is a single toilet for Business Class passengers at the front of the aircraft, and on inspection this was noted to be surface clean, although this reflected the age and high usage of the aircraft being somewhat worn.
Schedule
The flight departed Bangkok 1 hour 15 mins late, due to the delayed arrival of the inbound flight.
Food & Drink
After boarding, Business Class customers are offered a glass of juice or warm water. Once inflight, the cabin staff came to take drink order requests and also the meal choice preference (there were 2 entrée types to choose from). Drinks are limited to soft drinks and beer (Budweiser) being available, together with tea and coffee. The staff laid a tablecloth, and approx. 10 minutes later served a bowl of mixed nuts and a plate of fresh fruit. Whilst most western passengers prefer to have fruit at the end of the meal, the Sichuan Airlines service format seemed somewhat muddled.

Business class – fruit plate
Once the fruit plate was cleared away, a full size tray was served with the main course and dessert option. From a meal size basis, this was a very generous meal tray loaded with more than enough food for this flight duration! The meal had been supplied ex-Bangkok, and flavour and quality was all generally of a good standard.

Business class – dinner tray
Entertainment
There is no personal IFE offered on this aircraft, and no tablets were provided to Business Class customers. The dropdown screens featured a variety of Chinese programme entertainment and a short movie, but with no headphones supplied and only Chinese language available, this was of no use or interest to non-Chinese customers.
Comforts
A small pillow was placed on the seat at boarding, but of the 2 pillows checked one would question the cleanliness – they contained what were clearly signs of use by customers on the previous flight, and this re-use of such materials by some Chinese airlines is a worrying aspect of their hygiene and cleanliness policy. During the flight, the cabin staff also offered unwrapped blankets for Business Class customers, but due to concern over cleanliness standards, this was not used. Small cotton towels were served twice during the flight, and these were satisfactory.
Staff Service
The cabin staff service was generally quite efficient, and the one female staff working in the Business Class cabin tried hard to communicate in English (which was quite good) and had a pleasant personality and genuinely seemed interested to offer good service. There was not much style or grace to the service, and it was based more on functionality rather than personalised attention.
Outside of serving the food and beverages, there was little checking on customer requirements, and the flight service had much more of the feel of a Chinese domestic flight rather than an international operation to Thailand.
Arrival Service
Arrival into Chengdu was late at night, and the process through Immigration and Customers was very swift. With hand luggage, it was less than 10 minutes from gate arrival to exiting the terminal.
Verdict
This was quite a cheap ticket for international Business Class, so from a value perspective, Sichuan Airlines offered a good deal that was worth it on this trip experience. It is clearly not an airline which is targeting non-Chinese customers, and it seems to be several years behind larger Chinese carriers such as Hainan Airlines or China Southern Airlines in adopting a more international style of service and product. As with many Chinese flights, the Pilots do not say a single word to customers, and this is both annoying and disconcerting, especially when customers have had to endure a long delay. Given a choice between Sichuan Airlines or Thai Airways on this route, I would choose Thai Airways in preference, but the Sichuan Airlines schedule suited my inbound connecting flight.
This flight report is based on fully paid tickets, not airline discounted or complimentary tickets.
---
Related Links
» Sichuan Airlines customer reviews
» News Headlines
» Special features
---