Review of the United Club at London Heathrow Airport
Images of United Airlines in times gone by adorn the Heathrow lounge
LOUNGE INFORMATION AND ACCESS
The United Club is located in the satellite building of Terminal 2 at London's Heathrow Airport, about an 8-minute walk after you pass through security. If want to do duty free shopping, this is primarily located in the main terminal area, and you would be well advised to do this before going out to the Satellite area where the United Club is located. The lounge is divided into two sections – one for Global First, the other for Business Class. This visit was to use the Business Class section.
The lounge features the new United Club design. Customers enter via an elevator and are greeted with an opulent reception area that would not look out of place in a 5-star hotel. The service from the reception staff is efficient, but they simply scan the boarding pass. There is no conversation, real dialogue or information provided about the lounge features, so the initial visual appearance is not backed up by the service.




LOUNGE LAYOUT
The lounge is large and for this late evening departure it was probably only about 20 per cent occupied. As you enter from reception, the dining area and buffet is on the immediate left, and showers and washrooms are along the walkway to the right.
The lounge interior is stylish. It is clean, modern with marble finishes, and the use of mirrored surfaces gives a great sense of space and light. Along the exterior wall there are floor to ceiling windows and a large staffed bar area. As you walk through the lounge there is a range of seating options – armchairs, dining tables, marble work benches and bar type seating – all are nicely presented. At each end of the lounge, there are large historic images of United Airlines from days gone by, and this is a nice interesting touch to the lounge interior.
LOUNGE DINING
A hot and cold buffet is available and even towards the end of the day's departures this was well stocked and kept refreshed. Both Vegetarian and meat choices were available – there was beef lasagne and pot roasted chicken thighs for meat lovers, or vegetable and chickpea curry and onion pulav for vegetarians. Vegetable side dishes were also provided. There was a decent salad bar, and a range of sandwhiches, wraps and cold cuts, as well as sweet treats for dessert. The chicken thighs and roasted vegetables were chosen this evening, and whilst slightly heavy on the garlic, it was delicious.
There is a fully stocked staff bar serving a range of cocktails, wine and beers. Dotted around the lounge are fridges with the usual soft drinks, juices and water, plus coffee machines offering a selection of hot beverages.
SHOWERS & TOILETS
Shower rooms are available, although I did not use these. The washrooms are individual rooms with a toilet and sink. Again, the finish is top-quality and there appeared to a member of staff permanently stationed for cleaning and other such duties. There were no branded bottled amenities, with only a standard dispenser soap available but this was only a minor disappointment.
WIFI / COMPUTERS / INTERNET
A good and fast Wifi service is available, and no log-in or password is required. There are plentiful power and USB sockets around different seats – this is a well provided product that has been incorporated into the lounge design in a thoughful and tasteful manner.
STAFF SERVICE
Aside from the somewhat perfunctory reception service, the staff in the lounge were efficient and friendly. Most staff inside the actual lounge made the effort the say hello as they walk around. The tables were cleared quickly and the general lounge cleanliness and condition showed a decent level of commitment in this area.

United Club lounge interior : London Heathrow

United Club lounge interior : London Heathrow

United Club lounge interior : London Heathrow

United Club lounge interior : London Heathrow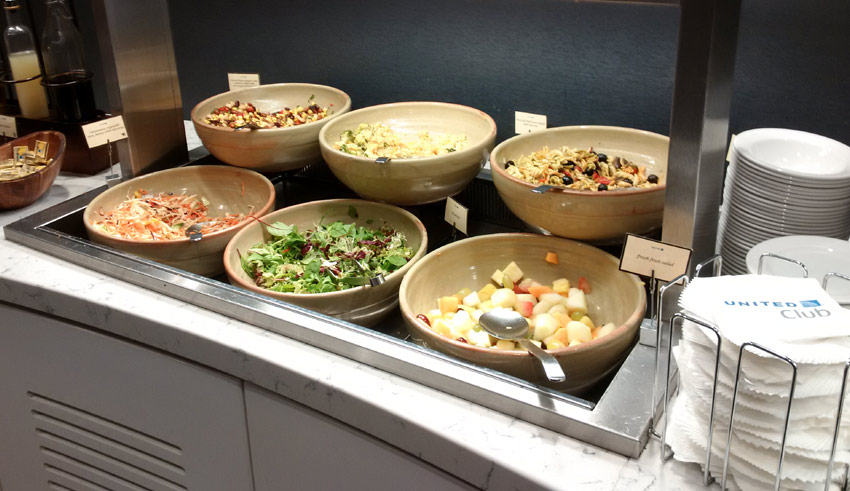 United Club food service

United Club food service
VERDICT
This is a great Business Class lounge. It had been a while since using a United lounge (whether in the US or abroad), and this is a real step up in quality terms from my previous experiences. The interior is modern and relaxing and the food and beverage standards were top-notch. Would highly recommend if you have a chance to use this lounge on your next Heathrow Terminal 2 visit.
---
Related Links
» United Airlines lounge reviews
» News Headlines
» Special features
---