Flight Report: Minneapolis to London with Delta Air Lines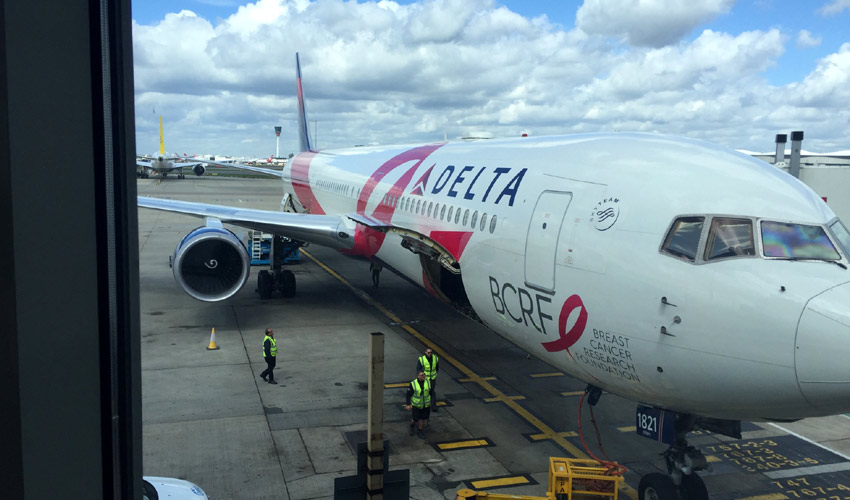 Delta Air Lines Boeing 767-400ER
Boarding
Arriving from a domestic flight I had a nervously short connection time and headed straight for my departure gate of G6. Delta use concourse G of Terminal 1 in MSP which benefits from the OTG terminal product. This is the first time I have had a flight from a OTG developed terminal or concourse and ultimately boarded my flight with a very good impression of the product. OTG has transformed the boarding experience at MSP resulting in the deployment of over 1,200 iPads across the G concourse and allows all passengers to order food, beverages, surf the web and play games all from the comfort of the gate area. It's effectively the closest I have seen economy passengers get to a lounge experience at any airport.
Delta's boarding process was smooth and efficient with the use of their zonal format. The iPads give up to date boarding information, including when boarding will start and which zone is currently boarding. Overall, this is an excellent product for Delta and provides a significantly improved service.




Airplane & Cabin flown
The Boeing 767-400ER in Economy Class with approximately 70% passenger load.
Baggage Allowance
Delta Economy Class passengers are permitted 1 x 23kg checked baggage and 1 carry-on bag (23cm x 36cm x 56cm) although are no point during the boarding process were bags checked for weight or size. In addition passengers were allowed a small personal item such as laptop bag or suit carriers.

Concourse G in Minneapolis Airport Terminal 1
The Seat
This Boeing 767-400ER has a seat pitch of 32 inches and width of almost 18-inches in a 2x3x2 configuration. Passengers should not expect a particularly impressive seat with it lacking the quality feel and appearance of more modern aircraft. The leather seats looked worn and tired whilst the only charging point was a USB port under the seat. Despite the old appearance, the 32inch seat pitch is competitive whilst the padding allows for a reasonably comfortable flight.

Economy class seat on Delta's Boeing 767-400ER
Cabin & Toilets
Despite being an older aircraft the washroom was in good condition throughout, although this appeared to be primarily down to passenger behaviour. Washroom cleanliness checks by staff were not observed for the duration of the flight. Unlike many legacy carriers (particularly in Asia) washroom amenities are limited to hand wash with no presence of moisturisers or other products. The cabin itself was clean and appeared well maintained. The only issue was the seat pockets which appeared to have plenty of rubbish and mess from the previous flight and was clearly not an area of concern for cleaning staff.
Schedule
The flight departed Minneapolis on time, and arrived into London Heathrow Airport about 10 minutes early.
Food & Drink
The food and beverage service began 30 minutes after departure with the beverage cart (including hot beverage) first followed by the food cart. This ensures that beverages and food are served at the same time. Options included a soft drinks as well as red or white wine, and a selection of beer and spirits which were available for purchase. Delta offers Starbucks hot beverages and these were a good addition to the service. The meal tray included a salad appetiser with Caesar dressing, a choice of 3 entrees (Chicken and Potato, Vegetarian Pasta and another Chicken dish) and a bread roll before finishing with a chocolate roll and cheese and crackers. Crew offered a very limited description of the entrées available and passengers should not expect a menu or detailed explanations of what's included on the meal tray.
The food was of a reasonable standard but the salad lacked freshness – however the Caesar dressing was nice. Fortunately the chicken and potato entrée was good, with a well cooked chicken breast and nice sauce. There is a final beverage service in addition to a bottle of water served before the service ends.

Economy class meal tray
Delta advertise their buy-on-board menu, 'EATS' online, (View Menu HERE) however, this was not available in the seat pocket or promoted at any point during the rest period with passengers left alone. There was no galley snack service and a frustratingly slow call button response time. When looking for a drink and walking to the galley staff were not available and 1 crew member was asleep on the back row. This was a red eye flight but the complete lack of service was surprising.
A small snack box was distributed prior to landing with Greek Yogurt, cheese, Biscoff cookies, a small cake and an orange juice. This was small but tasty. With the lack of snack service and minimal pre-arrival meal meant I left the flight the hungry. Being a red eye flight I understand the reduced service but I observed many passengers awake for significant periods of the 8hr flight and the service could have been more proactive.
Entertainment
The inflight entertainment is the strongest product area for Delta with their streaming service and WiFi product both available on the flight. The streaming service lets passengers stream 75 films and 150 TV programs straight to your own electronic device, but be warned, the selection is smaller than their full seat back PTV entertainment system. The full film selection offers a mix of Hollywood and International options whilst the TV programming offers a more US centric service with HBO and Showtime available. Headphones are available complimentary but don't offer the best sound quality so you may be better using your own.
Comforts
Pillows and blankets are available on each seat prior to boarding and the quality is satisfactory. Delta offer complimentary eye masks and ear plugs on all international long haul flights and these were particularly helpful on this night time flight.
Staff Service
US airlines have a poor reputation for staff service and this flight improved this image slightly. The staff, although friendly, were very forgettable when comparing to other airlines. There was little emphasis on dialogue during the service and interaction with passengers was minimal. However, having recently flown on other US carriers the staff were more smiley and approachable and would maintain eye contact throughout the service period. Essentially when compared to other international airlines the staff service is failing behind, but amongst long haul US carriers, it is amongst the strongest.
Verdict
Overall this flight was not particularly memorable with an aging seat product and forgettable service. The Boeing 767 was an old aircraft and the cabin lacked the quality of newer aircraft types. It's not until mid-2017 that the first of Delta's A350s will come into service and these newer aircraft will hopefully make a big difference to the customer experience. The service format, although efficient was let down by the complete lack of service mid-flight and given the heavy promotion of the 'EATS' menu this was surprising whilst negatively impacting the customer experience. The staff on the flight offered a reasonable service for the meal trays and went someway to changing the poor perception of US carrier service but this is by no means meeting the highest standards. Plenty of work is still needed but Delta seem to be doing a good job in separating themselves from the US competition.
This flight report is based on fully paid tickets, not airline discounted or complimentary tickets.
---
Related Links
» Delta Air Lines customer reviews
» News Headlines
» Special features
---