Flight Report: London to Vienna with British Airways
London Heathrow to Vienna Airport on British Airways A320
Departure Airport
With online check-in completed the day before, the bag drop at Heathrow Terminal 3 was quick and easy. Since many airlines moved from T3 to Terminal 2 in 2014, this older Heathrow Terminal 3 has become a pleasure to use.It is quieter, few queues and just more relaxing nowadays, despite not presenting the more modern facade of Terminal 2 or Terminal 5. Fast Track security offered instant service, and was through to the British Airways lounge in just a few minutes.




Business Lounge
London Heathrow: The BA lounge in Terminal 3 is on the smaller side and the main criticism woud be the lack of more comfortable armchair type seating. On this visit, only dining area table and chairs were available. The lounge provided a good range of hot and cold beverages, and as a late breakfast option there were plenty of pastries, croissants etc to choose from. There is a good selection of English language magazines and newspapers, and the WiFi service was easy to access and offered good speeds.
Vienna Airport: British Airways use the third party "Air Lounge" at VIE. Located just after Immigration, the lounge is compact and becomes very congested at peak periods. It offered a reasonable choice of hot and cold food, beverages etc – indeed, much better than British Airways own lounges. The lounge WiFi service was easy to access and also offered good speeds.
Boarding
Boarding at Heathrow was from Gate 3, a 5 minute walk from the lounge. Business Class and higher level frequent flyers are invited to board first, and the process was conducted in an efficient manner. Two cabin staff positioned by the entrance and offered a fairly genuine and polite greeting to customers. Departing Vienna, BA use the old boarding gate area of T1, which on this occasion was not too busy and security screening at the gate was quick and efficient.
Airplane & Cabin flown
Both flights were operated by an A320. Business class cabin was about 60% full outbound, less than 30% inbound, with the Economy cabin about 75% full outbound and 60% inbound. The cabin interior was the new BA Club Europe style, and in a good overall condition, with cabin cleanliness also at a good standard for both flights.
Baggage Allowance
British Airways Club Europe customers are permitted 2 x 32kg checked luggage and 1 handbag/laptop bag plus 1 additional cabin bag.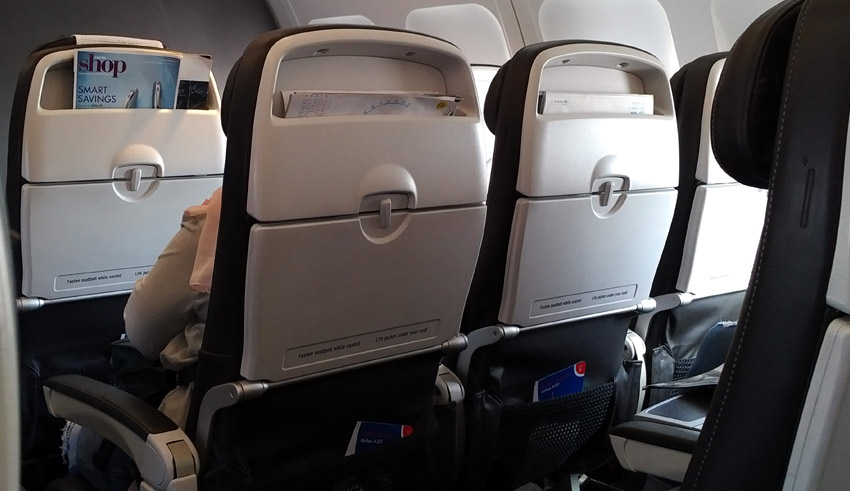 Cramped new Business class "Club Europe" seats on British Airways A320
The Seat
This is the real downfall with British Airways Club Europe product – the seat is terrible and is no different to the Economy class seat. Granted the 3×3 layout is changed to 2×2 by the use of a middle seat table being used, but the seat pitch is completely unacceptable by Business Class standards, and one would expect many more frequent BA business travellers to stop using Club Europe because of this cost-cutting cabin. Time will tell if this is British Airways penny pinching taken a step too far, because I for one will never pay for such a sub-standard European business class product in the future.
Cabin & Toilets
On both flights the business class cabin was clean and well presented. The seats are dark blue leather and nicely presented (they were new), and the corporate / brand image for British Airways is quite good. The toilet was checked mid-flight on each occasion, and was clean, although cabin staff were not seen to make any checks during the flights.
Schedule
Outbound, the flight pushed back on time and arrived into Vienna 10 minutes ahead of schedule. The return flight from Vienna was 5 minutes late on departure, but on time arrival into Heathrow with little ATC delay.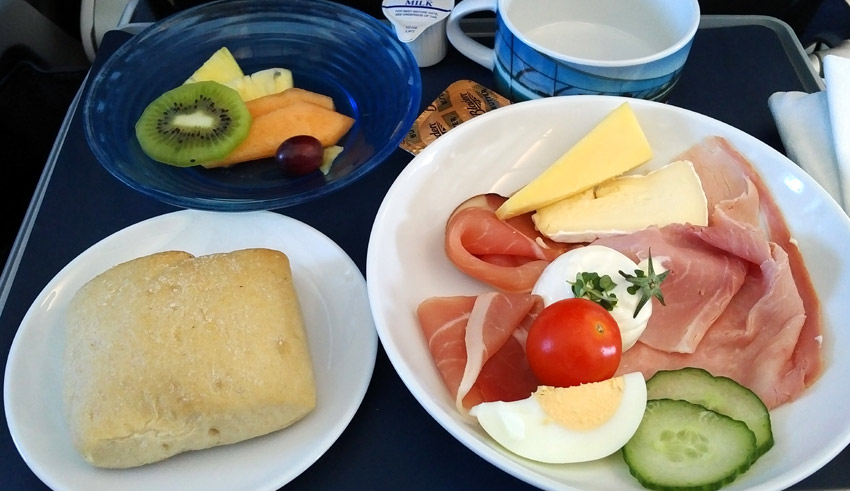 Business Class brunch on British Airways (LHR to VIE)

Business Class Afternoon Tea on British Airways (VIE to LHR)
Food & Drink
LHR-VIE was a continental brunch service of cold meats/cheese, fruit plate, roll and croissant. Quality was good and more than adequate for a short 2 hour flight. The return flight from Vienna comprised an afternoon tea service, and this again was sufficient for a relatively short afternoon flight.
Entertainment
There is no inflight entertainment provided on British airways narrowbody aircraft. Dropdown screens show the airshow / route map.
Comforts
No pillow or blankets are provided or seemingly available any more on a per passenger basis in business class. At the beginning of each flight a hot towel was served.
Staff Service
The cabin service on both flights was efficient, and best described as perfunctory. Meal trays, beverages and breads are offered from the first service cart, with a later tea/coffee service – but no second service of breads or croissants etc, despite there being many taken back to the galley. The friendliest member of staff across both flights was Spanish, who portrayed a natural smile and seemed more interest in providing a proper standard of customer care.
Arrival Service
Arrival into Vienna and a short walk to immigration and the baggage hall – with checked bags appearing after a 4-5 minute wait by the carousel. The return flight into Heathrow was a more distant Terminal 3 arrival gate and 8-9 minutes walk to immigration, but with no queuesby the time of reaching the baggage hall, first bags were already being delivered. Lucky on both occasions with nice easy arrival processes.
Verdict
In both Heathrow and Vienna airports, the service and facilities for business class customers were fine, and some level of priority is provided to support the higher business class fare. Onboard, the cabin service was efficient on both flights, tending more to a robotic processing style than genuine or friendly service. The food and beverages served were of a good standard for short haul, and the real downside and disappointment is the terribly cramped and uncomfortable business class seats.
This flight report is based on fully paid tickets, not airline discounted or complimentary tickets.
---
Related Links
» British Airways customer reviews
» News Headlines
» Special features
---