Air France: Economy Class trip review Kansai to Paris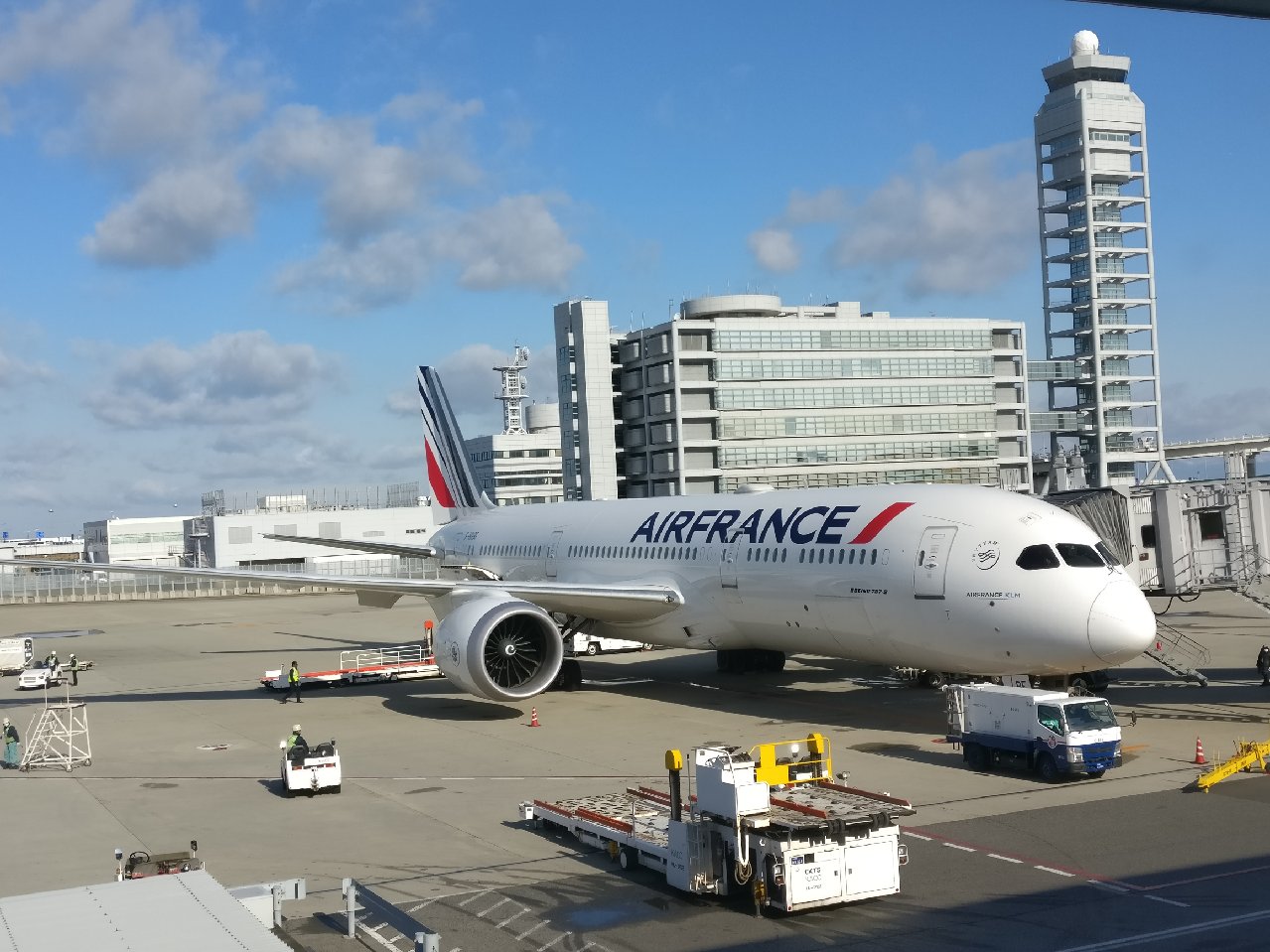 Kansai to Paris CDG in Air France Economy Class
Kansai Airport
This morning's flight to Paris is from the main International airport serving Osaka located in Kansai around 25-miles from downtown and easily accessed by train or limousine bus, or ferry from nearby Kobe. Air France check-in is positioned in Row E and this is quite simple to find in the departure area. There is a moderate degree of branding for the Economy Class (bag-drop) and SkyPriority services and queues times appear short at the time of visiting. There are self-check-in units for printing boarding passes, after which customers are moved into the bag-drop waiting area if required. As I am travelling with hand carry I proceed directly to security where processing is quick, before a short wait in a busy immigration area. Once airside I must use the terminal people mover to transfer out to Gate 38 where I will depart from today. I am in good time for the flight, so I have chance to window shop at the many International boutiques in the Airside Avenue shopping area, have a coffee and enjoy the hustle and bustle of the many Chinese passengers purchasing Japanese rice cookers, cosmetics and candies to take back home.




Boarding
Boarding begins 25-minutes before departure and organised in stages with Zones 1 to 5. Zone 1 and 2 are for various priority passengers and Zone 3 to 5 is the main Economy Class cabin with the rear rows first. Being in Japan this is all done with excellent efficiency and the full Boeing 787-9 has all customers in their seats just over 15-minutes later – it is impressive. There is a mix of French and Japanese cabin staff for the flight and I am greeted warmly by a senior member of the Japanese contingent who appear capable of welcoming customers in French, English or Japanese, and I am politely directed to my seat in the rear cabin section of the aircraft. The flight looks more or less at 100% capacity and the staff are being efficient with assisting customers with bags and getting everyone in their seats. Information from the flight deck is given shortly before pushback and this comes in French and English directly, and the translated from the cabin crew in Japanese.
Airplane & Cabin flown
Boeing 787-9 in Economy Class which is close to full capacity.
Baggage Allowance
Economy Class customers are permitted a single checked bag up to 23kg depending on fare type, but all customers are allowed 2 pieces of hand luggage not exceeding 12kg for both items.
The Seat
Today's Boeing 787-9 is configured with the usual 9-across layout in Economy Class. Leading up to departure there are various opportunities to purchase extra legroom seats in the front/bulkhead rows, as well as "preferred" seats which have no extra space but are simply positioned towards the front of the aircraft. Having weighed up the value I opt for a standard window seat in row 38. It's worth highlighting here that any time before the 30-hour online check-in timeframe seat selection is charged at around £17 per seat even for a standard option.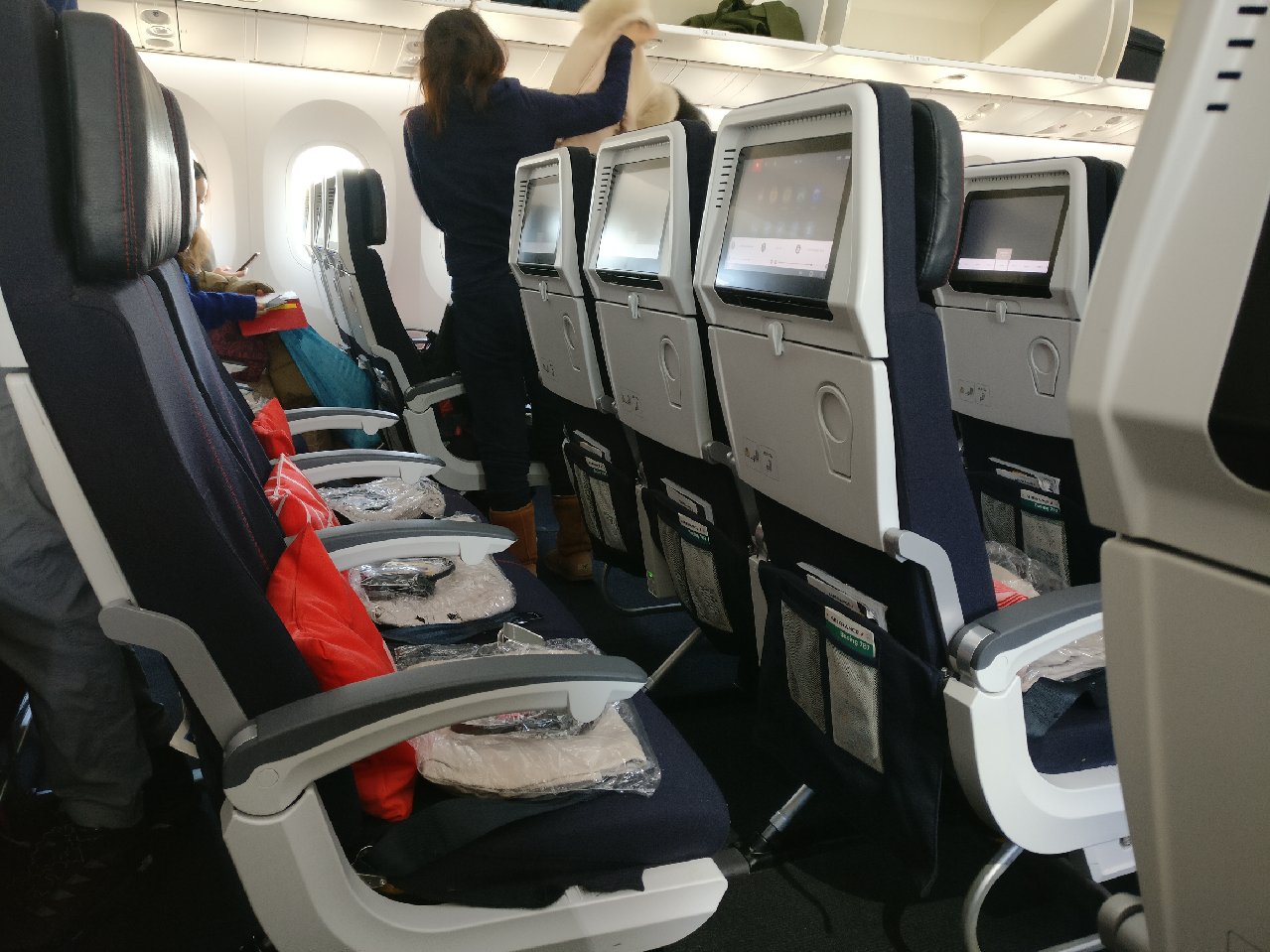 Comfort-wise, this Air France product is run-of-the-mill for personal space with a 31-inch seat pitch. The recline is quite modest but there is still a fair bit of intrusion from the forward seat when this function is used. If you are below 6-foot in height and not too large a build the space is fair for dining and relaxing (as much as one can in Economy), but practical space anything work related is restricted when the forward seat is reclined. The headrest adjusts up and down and the wings fold in to give some additional support.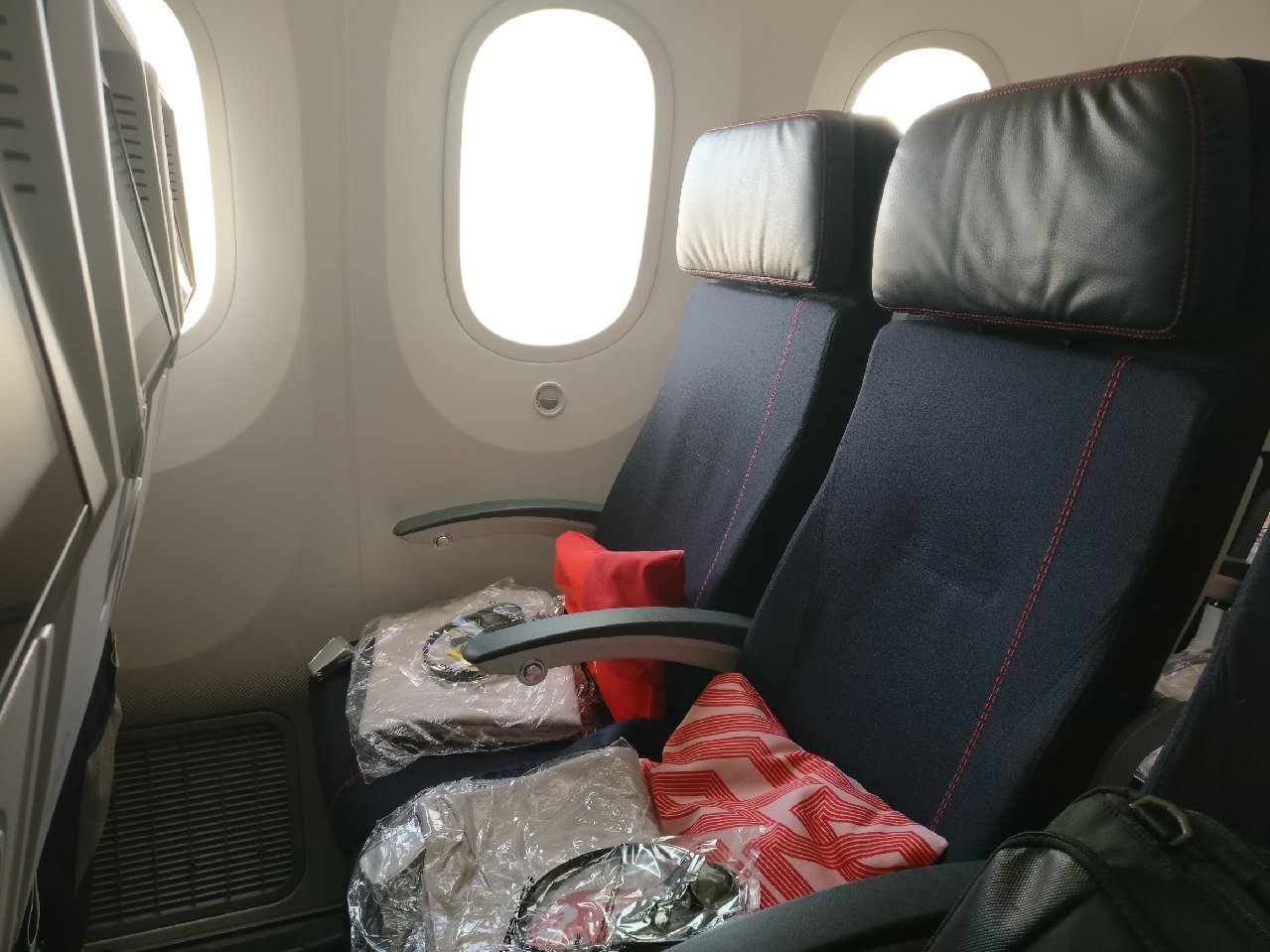 The PTV screen is 11-inches and integrates the headset socket and USB outlet, the mains 110v outlet is positioned at the base of the armrest on the forward seat which gives easy access.
Storage options are quite fine with a large seatback pocket which also has two smaller sub-sections which are ideal for smaller electronic devices.
Cabin & Toilets
The cabin is quite immaculate when I board and this is all elegant in appearance with dark navy blue carpets and seat covers with nice detailed red stitching on the seatback and leather headrest. Curtain dividers are a similar vibrant red, and each seat is outfitted with a beige blanket and pillows that are varying designs and shades of red, pink, peach and white which create a further strong visual impression.
The washrooms are pleasantly finished and are kept clean throughout the flight by the cabin crew.
Schedule
The flight departs from Kansai on-time and arrives into Paris at schedule for my connection back to London.
Food & Drink
Service begins efficiently after the seatbelt is turned off with a moist cotton towel which is scented and presented in an Air France branded packet. Shortly after this an individual menu is deliver which outlines the meal and bar choices for the flight to Paris. Around 30-minutes inflight staff begin the bar service and this has a good approach with two carts per aisle starting from the front and rear rows. Progress through the cabin is fairly quick, but not rushed, and all customers have their first drink within 20-minutes which is not bad for a full flight.
The bar product has a good full-service feel and with wine, beer and a range of soft drinks, waters and juices. There are no spirits but digestifs and liqueurs are available after the meal. A unique feature for Economy Class is that Air France offer Champagne as an aperitif choice before the meal, and I can't resist enjoying the novelty which is presented in a short stem glass with the bar snack.
Meal tray delivery begins another 30-minutes later, and again, this moves through the cabin at a reasonable pace. There is a choice of beef stroganoff and Japanese style salmon and both of these are served with rice. I opt for the beef today and this has a nice flavour and texture of meat with sticky style rice. The vegetables are slightly overcooked and soft but this is a perfectly passable entrée.
The appetiser is a pumpkin salad and this is a nice dish with the option of coleslaw dressing. Pudding is an apple clafoutis and while the flavour of this item is good the catering department have elected to use gelatine in the sauce topping which gives an unusual texture. Camembert cheese completes the meal. A really decent French style baguette is given for which this is a biggest bread portion I have ever seen in an Economy Class cabin.
For those hungry mid-flight there is a range of snack items in the galley – pretzels, mini-chocolates, cereal bars and suchlike, and staff give out Meiji ice creams.
Before arrival there is a second meal tray with a single choice of entrée (pasta, Bolognese and vegetables), salad, fruit and bread. The entrée is small and simple but rather good quality for flavour, the salad is fine but a somewhat strange combination of tomato, cucumber, lettuce, cauliflower and baby sweetcorn. The bread this time is a brioche style finger roll in a packet and the quality is less pleasing than the first meal – however, the cabin staff do bring around a second basket of bread.
Entertainment
The entertainment system has a simple tabulated user-interface for which the options are logically divided into movies, TV, music, games and kids. Choices in each category are quite extensive with approximately 220 movies, 700 albums and various TV programming.
Movies has a large quantity of new and classic French cinema, Hollywood choices and various world language options in about 8 different dialects. TV has a lot of variety but there are only 3 boxsets (10 episodes) all of which are US series. Everything else has between 1 and 3 episodes, so there is less potential for binge watching on Air France flights. Otherwise, the setup is the usual drama and comedy sections, lifestyle, travel, sport, art, business and various others.
WiFi is available on this Boeing 787-9 and this is sold in 3 packages of 20MB for 5EUR, 50MB for 10EUR and 150MB for 30EUR. The connection functions well during the flight, and while the overall allowance is a little more restrictive than other airlines, the value is satisfactory.
Comforts
All comfort items are on the seat during boarding and these are nicely presented and arranged. Pillows are of two designs and have cotton covers which is a treat for Economy Class. Blankets are beige fleecy, nylon which are warm but subject to a lot of static charge when unwrapped.
In the headset package there is an eye mask and this item is also been subject to the Air France brand treatment with a varied range of elegant designs seen in the different packs.
Staff Service
Staff service is quite pleasant overall during the main customer contact points, and more so than previous Air France flights I've experienced, with staff more willing to communicate bi-lingually between French and English. There are also several Japanese staff for the benefit of local passengers.
All aspects of the service are delivered efficiently and with reasonable skill. There is little staff presence in the cabin when the lights are dimmed, and as this flight is more or less at capacity in Economy Class, one might anticipate that staff could be more active giving drinks – particularly, as access in and out of the window seats is quite disruptive.
An impressive service aspect during this flight was the washroom cleanliness which is at a really decent standard for Economy Class. It is unclear if this is a factor that is better due to the local Japanese crew (who are renowned for their attention to detail for such matters) but it is a pleasant surprise nonetheless.
Arrival Service
There is not much in the way of arrivals service once at the gate in Paris, but flight screens are plentiful and wayfinding through security to my next flight to London is quick and simple for this short 1h15m connection. It appears that most customers are heading through immigration so perhaps this explains the lack of staff.
Verdict
This was a most pleasant experience with Air France. The benefit is the new Boeing 787-9 aircraft and comfortable interior which is always best judged on high-load factor flight such as this. While the personal space is not the most generous it is comparable to other European airlines.
This flight report is based on fully paid tickets, not airline discounted or complimentary tickets.
---
Related Links
» Air France customer reviews
» News Headlines
» Special features
---